The Big Bad Fox and Other Tales
Dir: Patrick Imbert, Benjamin Renner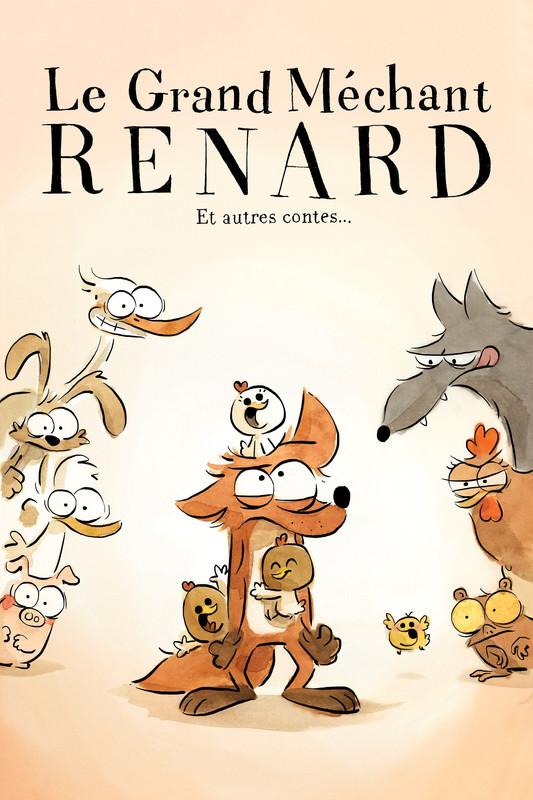 This delightful French animated film is set up as three short plays, put on by the animals in a farmyard. In Baby Delivery, Pig and his dimwitted friends, Rabbit and Duck, must fill in for an injured Stork. The Big Bad Fox sees Fox accidentally become mother to three chicks he steals for himself and Wolf to eat. In Saving Christmas, Duck believes he has killed Father Christmas and he, Rabbit and Pig must fill in for him, as they did for the Stork.
The Big Bad Fox and Other Tales is this year's Family Gala screening at the London Film Festival, this is the strand that contains the films pitched at children, but this is a true family film. It will delight children (I'd suggest it for ages six and over) but, without aiming jokes over children's heads, it should also work for adults. The animation style is very different; a little sketchy, but beautifully simple and full of character rather than crude, but the tone of the film has much in common with classic animated shorts. The slapstick gags come thick and fast, with the timing and execution of classic era Tom and Jerry, while the way these moments combine with the verbal humour recalls Looney Tunes strongly (especially in the relationship between Pig, Rabbit and Duck).
There are some wonderfully absurd touches and running gags to be enjoyed; the chickens forming a self-defence group because the guard dog is lazy, the calamities that happen to Pig's house and Little Michel, who pops up in the last two stories to endearing and hilarious effect.
Any further review of this film would amount to my repeating my favourite jokes, which would rather spoil what is a wonderfully enjoyable film. I will say to stay in your seats during the credits as during them there are some lovely jokes, a recipe and a closing moment that seems to be a nod to Michigan J. Frog and sent me out of the cinema with a mile wide smile on my face. This may be pitched as a kids film, but it's for anyone with a functional funnybone.
★★★★½
The Day My Father Became A Bush
Toda (Celeste Holsheimer) is ten years old and lives with her pastry chef father (Teun Kuilboer)
in an unnamed country. When war breaks out between 'The Ones' and 'The Others' Toda's grandmother comes to stay, while her father is called to fight. Eventually it becomes too dangerous at home and Toda is sent abroad to join the mother (
Noortje Herlaar) she doesn't know. Along the way she gets separated from the people taking her and must make her way on her own.
I am a great believer that children's cinema can and should be much more than mindless entertainment. The Day My Father Became A Bush tackles some big issues: war and its futility, displacement and the dislocating reality of suddenly becoming a refugee, but does it from a child's eye view, making those issues comprehensible for its target audience. A big part of this success is in the way it addresses war. Nicole Van Kilsdonk never explores what the fighting is about or whether we should see 'The Ones' or 'The Others' as the good guys in the conflict. This isn't what's important to Toda, what matters to her is that her father is away and that his camouflage be good enough to make sure he comes home (in one of the film's most quietly touching scenes she puts branches on his helmet so 'even birds will think you're a tree').
Ultimately, the film says, which side we're on doesn't matter much. Her father wears a blue badge but at one point Toda finds herself sharing a shack with a man wearing a yellow badge, soon she's sharing food with him and, sweetly, helping him learn to give orders (he has deserted because he found he wasn't assertive enough for his command role. This scene is a fine example of the way the film leavens its messages with humour and heart.
Toda is a great character for young girls to see and identify with. She's inquisitive and intelligent, brave in the face of scary situations and compassionate with a slightly younger boy who attaches himself to her, whom she nicknames Stickie (Matsen Montsma). She's also just a typical ten year old, who calls herself a daddy's girl. As Toda, Celeste Holsheimer gives a performance free of anything actorly or precocious. She hits the funny moments nicely, but is particularly adept in the dramatic scenes, especially towards the end of the film when, having lost her mother's address, Toda finds herself a refugee.
The Day My Father Became A Bush asks kids to engage with some big themes, but it takes them gently through those ideas, leavening them with humour and, even in the film's toughest moments, the optimistic outlook that Toda radiates. It's an entertaining and intelligent film and an ideal opportunity to discuss some challenging subjects with your kids.
★★★
★