The Dumb Girl of Portici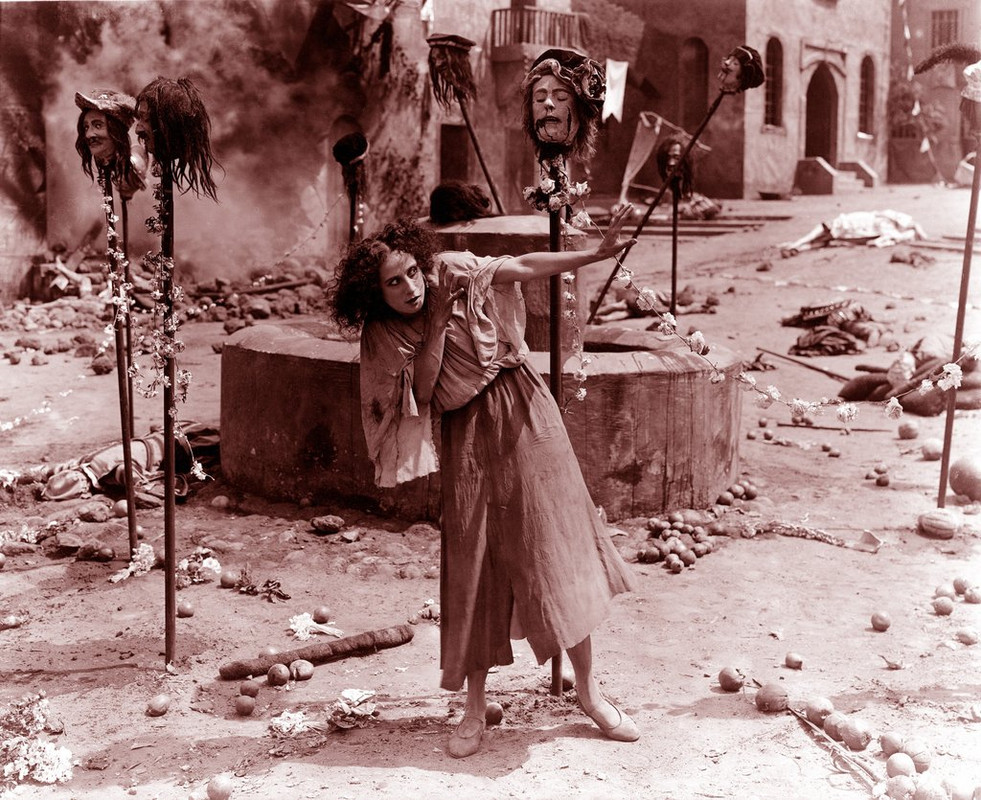 I confess I am far from an expert on silent cinema. It's a medium that I think is in many ways distinct from sound film, because of the many differences in style, technique and in the basic way it communicates with us. I have seen a good few silent films, from the established classics - Keaton, Chaplin, Griffith - to a few deeper dives, such as Oscar Micheaux's Within Our Gates, but I still feel I need further education. It is worth bearing all this in mind here, because some of the difficulties I had with The Dumb Girl of Portici may be based on that unfamiliarity, rather than the inherent qualities of the film itself.
The story is based on an opera about Fenella (Anna Pavlova), a mute gypsy girl who falls for a nobleman. The film tells the story of their affair, the victimisation of Fenella because of it and the revolution it precipitates, led by Fenella's brother (Rupert Julian, later the director of the silent Phantom of the Opera).
For most modern audiences, The Dumb Girl of Portici will be most notable as the only feature film role of the legendary ballet dancer Anna Pavlova. In this respect it is a hugely important film, documenting a great artist whose work was otherwise only seen live. Pavlova is an interesting presence in the film, she is the top billed star, but the lead role arguably belongs to Rupert Julian and for much of the film, particularly the second half, Pavlova is treated as a rag doll, pulled and carried from scene to scene as people fight over her. It can't be denied though that she is magnetic on screen: she captures a wild, expressive character with grace and beauty of technique. Most of the time Pavlova is entirely in character, she does some dance in the story, but it is only at the very beginning and very end of the film that we see her as a ballet dancer, her pure technique captured.
The film itself definitely has energy within its frames, especially in the surprisingly bracingly violent riot scenes of the second half, but Lois Weber's use of the camera is otherwise rather static. Camera movement is very minimal, but tinting is used to excellent effect, again especially in the red toned riots. It's worth noting that performance in silent film of this era was much more gestural and theatrical as a rule, but even by those standards, I found much of the acting in The Dumb Girl of Portici overblown, particularly Rupert Julian's performance and that of William Wadworth as Pietro, literally twirling his moustache as a guard who turns on the aristocrats, then turns on the rebels as soon as he is stopped from raping Fenella.
I'm glad I saw The Dumb Girl of Portici, just for the opportunity to see Pavlova and, for the first time, to experience a silent film with a live piano score, but while this is clearly an important film, for me it isn't one that has aged brilliantly.
★★★
Ava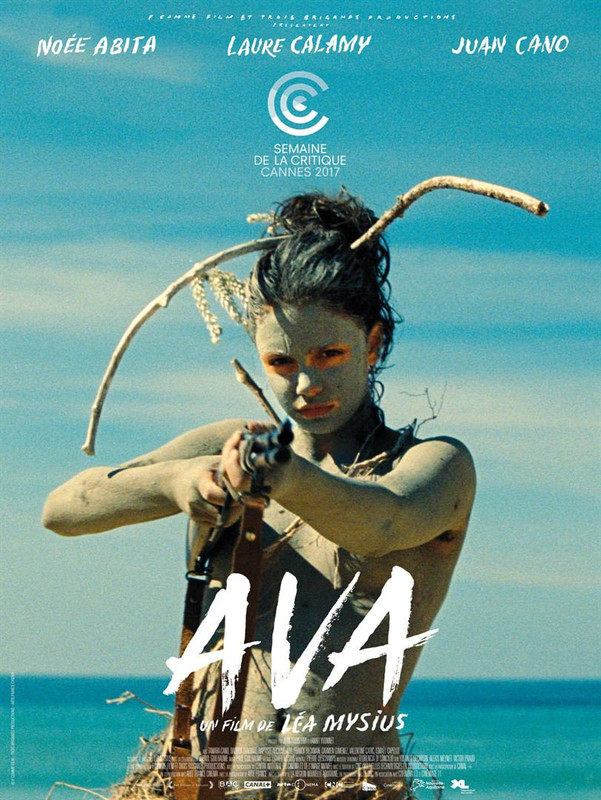 There may be something in the water in France. They seem to excel at making coming of age films, particularly about girls. Lea Mysius debut focuses on the titular Ava (Noee Abita), a 13 year old girl holidaying with her mother (Laure Calamy). Ava has just been told that she is going progressively blind, and this may be the last summer in which she is able to see. On the beach Ava encounters Juan (Juan Cano) and becomes fascinated first with his dog and soon with him.
Ava is very much a film of two halves. The first is beautifully aimless. Ava wanders the beaches, steals Juan's dog, flirts with a boy her age and acts out in various ways against her mother, perhaps annoyed that she's taken a much younger local man as a lover. I looked at this part of the film as being about Ava's wanting to see as much as possible in this 'last' summer and it finds great poignancy in that, notably in the paintings in Ava's room, white circles of decreasing size, surrounded by blackness.
Noee Abita makes an outstanding debut as Ava, capturing the duality of that confusing age when you are still a child, but increasingly desperate to break out of that and into 'adulthood', when your parents might be telling you one thing and your body another. Abita has the ability to look both older than her years and incredibly childlike, sometimes in the same moment, and the scenes that play these emotions off against each other are the film's finest moments. Ava is aware that her body is changing, and of the effect it can have on people, but she doesn't truly understand either. In one moment, as Juan goes to leave, she flashes him, trying to make him stay. It's a moment that is both funny and sad in its naiveté.
Laure Calamy, the only experienced actor in the main cast, is also highly effective as Ava's mother, who is very much enjoying what seems like a second wind of youth, having just passed 40 and with a year old daughter to look after as well as Ava. She's caring, but not the most responsible parent, leaving Ava alone to care for her young sister. She's frank with Ava, telling her daughter that she lost her own virginity at 13, that she understands what's going on in her head right now, but to try and wait. Ava, for her part, wants the Earth to open up and swallow her at this point. This whole first section of the film is an acutely observed and played coming of age film.
Then Lea Mysius decides her film needs a plot.
The second half of Ava diverges wildly from the first, expanding Juan's role and suddenly, without warning, becoming a road movie. Ava's encroaching blindness remains as a plot point, but all but vanishes as a theme, it's depicted but never truly explored. I don't want to go into what happens in the film's second half, for fear of spoilers, but the film splits in two at a certain point, just after a carefree montage of Ava and Juan. That montage strains credulity, but the next scene breaks it, and nothing after rings true with the first half of the film.
It's a terrible shame that Ava abruptly stops working, because for 40 minutes or so it is an extremely promising debut, beautifully shot, sensitively written and acted. Despite its problems, this film still points to good things from Lea Mysius in the future, but this could have been brilliant, and isn't.
★★★