10: Hungry Hearts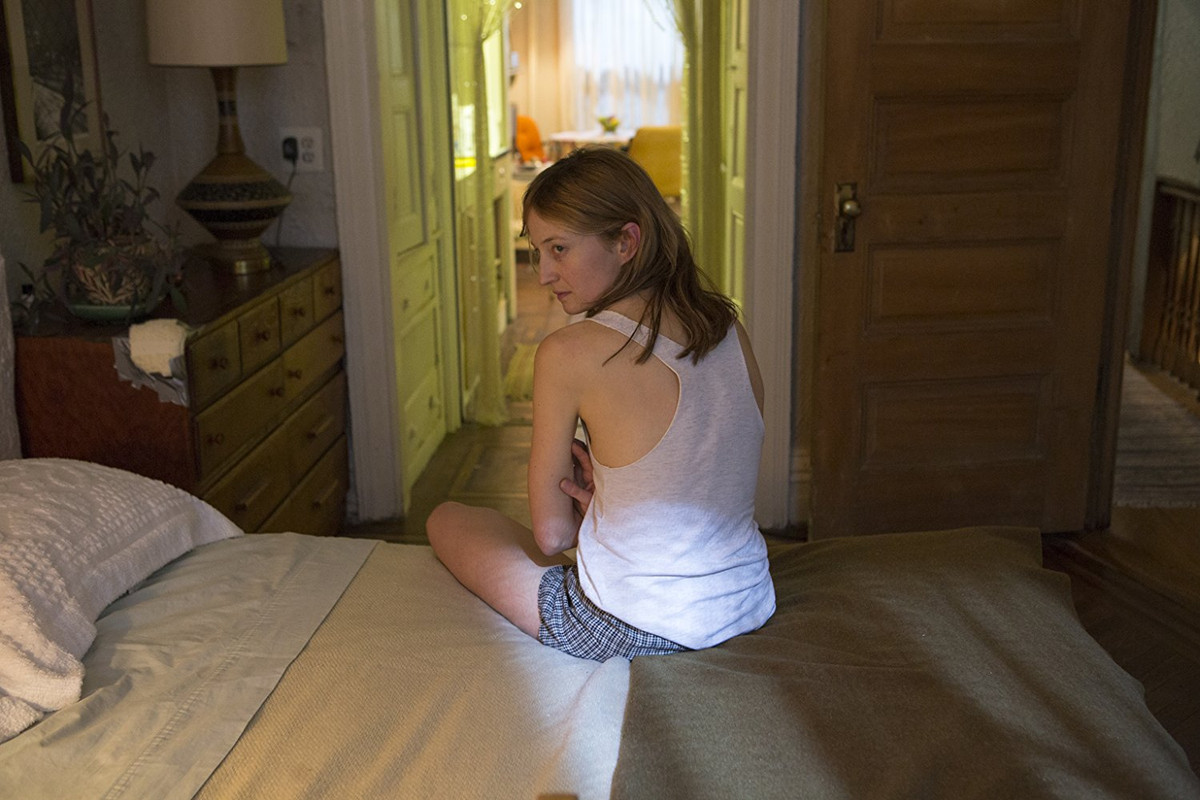 Most of the best films that came out of this year's London Film Festival - at least for me - are set for a UK release next year, but Hungry Hearts still seems to be an exception and while it's not without flaws it is well worth tracking down.
In its opening moments the film advertises itself as one thing; a romantic comedy. It does so well, with a meet cute between Adam Driver and Italian actress Alba Rohrwacher which is both cute and funny. It keeps this tone until after the couple are swiftly married and have a child. It's then that Hungry Hearts begins to reveal itself as something rather different than the film you have thus far been watching.
In its second act the film mutates, folding in elements of paranoid thriller and body horror, as Rohrwacher's Mina becomes ever more unhinged in her concern for her child's safety and particularly that food of almost any kind will harm him.
The style of the film changes too, with one striking sequence towards the end of the second act employing a fish eye lens for an effect something like Repulsion via Cronenberg. I might have put Hungry Hearts higher up this list, but for the fact that as it twists one final time in its last three minutes it lands on one of the worst endings any good film has had for some time. Until then though, this is strikingly strange and original work.
9: Waiting For August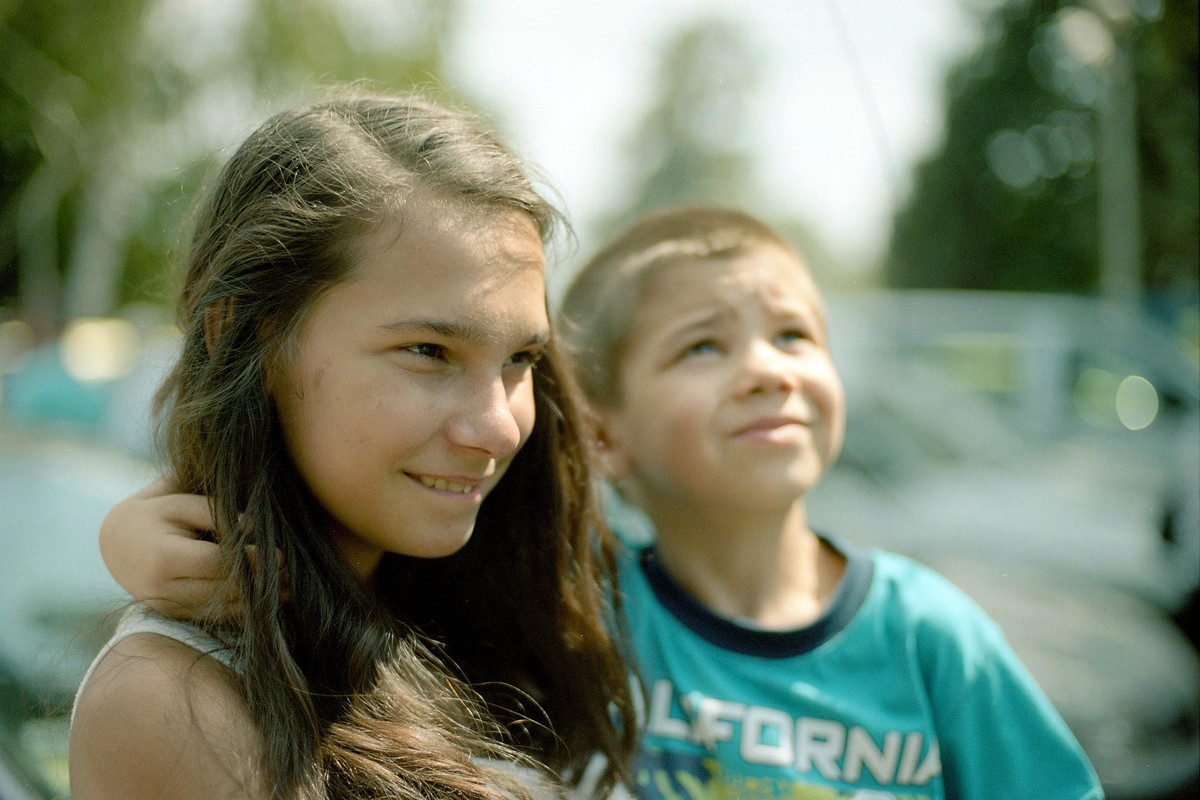 Waiting For August was that rare thing; a surprising film, but it wasn't just the fact it was surprising, but the manner in which it was surprising that really impressed me. For 88 minutes I had assumed, having been given no contextualising information to the contrary, I had been watching an ultra realistic fiction.
I had been impressed by the depth and nuance of both the naturalistic performances and the unobtrusive, observed camerawork, and moved by the intimate glimpse into the lives of a family of kids, left at home in Romania while their mother works away in Italy.
It was only afterwards, doing some research for my review, that I discovered I had been watching a documentary.
It was an interesting mistake to have made, but it didn't change my admiration for Waiting For August, nor what I thought was best about it. It remains an honest and intimate insight into a reality that a lot of kids, likely including many with parents working here in the UK, are living.
Geo, the 15 year old who emerges as the main carer for her siblings while their mother is away, is an engaging presence with a bright personality that not only leaps off screen but also keeps the film from becoming too downbeat.
Waiting For August makes some important points without lecturing its audience and marks director Theodora Ana Mihai as one to watch, I'll be intrigued to see what she comes up with next, especially if she moves into fiction filmmaking.
8: The Garden of Words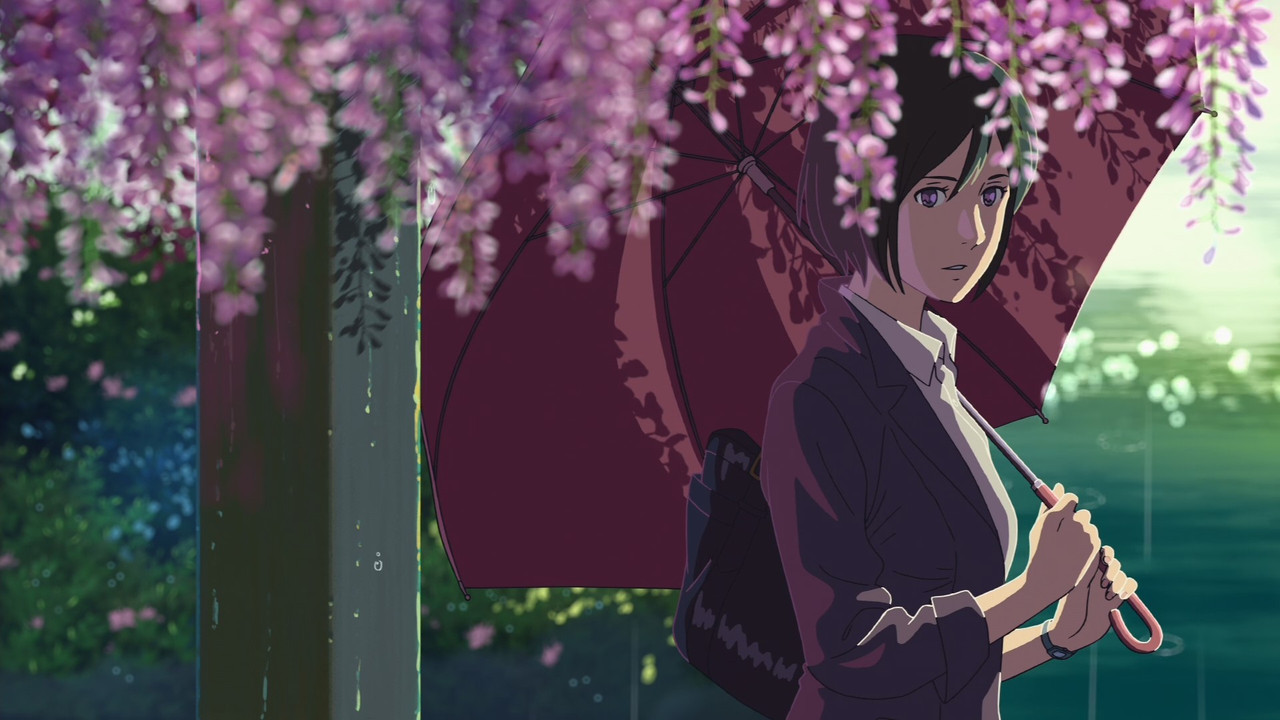 When the question is asked which directors are making the most visually stunning films of the 21st century, I would wager that, probably because he's an animator, Makoto Shinkai's name doesn't come up terribly often. That's a pity, because this mid-length film (just 42 minutes) is one of 2014's most beautiful, and it follows a set of films - 5 Centimeteres Per Second, The Place Promised in Our Early Days, Children Who Chase Lost Voices From Deep Below - that mark him out, for me as the Terence Malick of anime.
This minor key film sees a boy of 15 skipping school one rainy day and going to a park to sketch. There he meets a woman in her late 20s, they talk and, over a series of rainy days in the park, develop a connection. It all goes much as you'd expect, and the one major twist is obvious from some way out, but the film develops its own languorous rhythm,
the images are ravishing from start to finish and the voice acting is nuanced, forging a connection between the characters.
The penultimate scene is Shinkai's only misstep here; he rushes and overplays a key moment in a way that goes against the prevailing tone of the film. However, that's only two minutes, and this wobble aside, The Garden of Words is beautifully crafted. A minor work in Shinkai's canon, perhaps, but still one well worth seeking out.
7: The Guest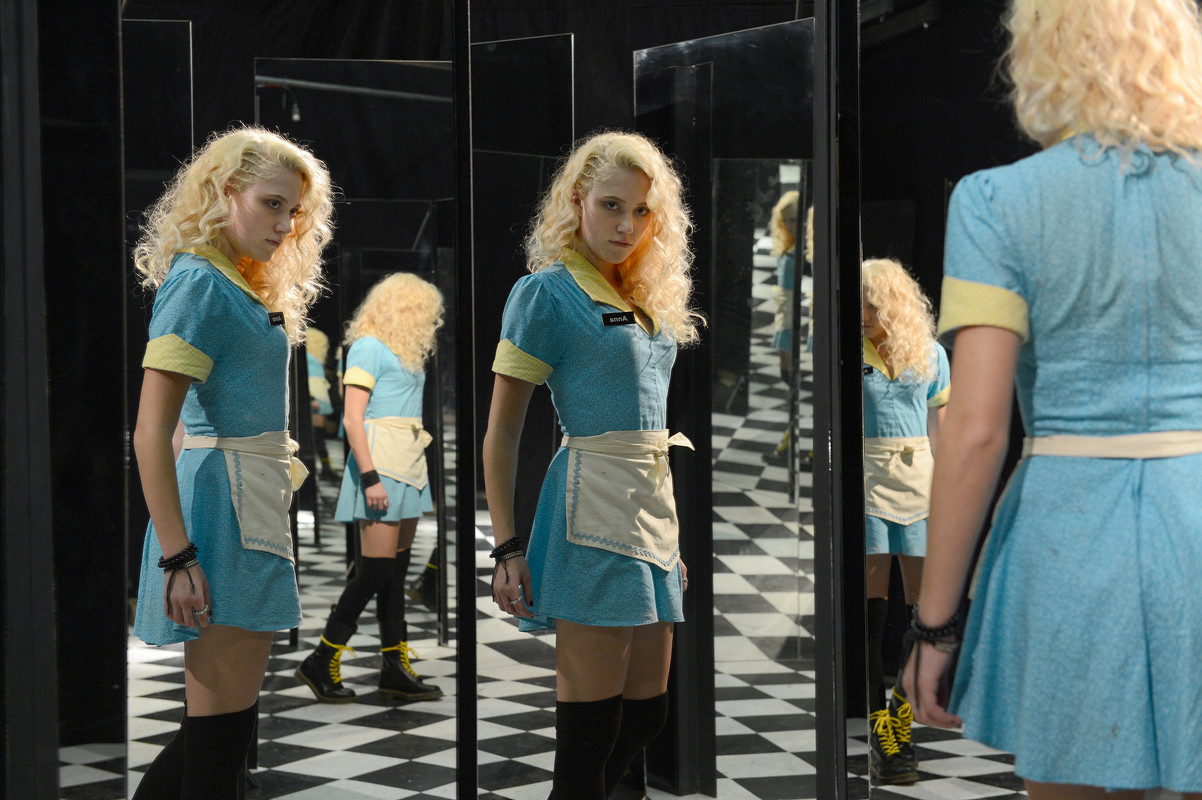 It won't win me any friends saying this, but I wasn't very fond of Adam Wingard's You're Next. It had a solid final girl in Sharni Vinson and it's always nice to see Barbara Crampton but otherwise I found it a very ordinary home invasion film. The Guest is a further step away from the mumblegore of A Horrible Way To Die, but for me this tilt at the mainstream (and explicit John Carpenter homage) is easily Wingard's best film to date.
I never watched Downton Abbey, but nevertheless I was aware that his role as an Iraq war veteran who ends up staying at the family home of one of his former, now deceased, fellow soldiers, represents a significant change of pace for Dan Stevens. Of course that's not the whole story with either the film or the character, and Stevens achieves a fine balance between charming and sinister as he inserts himself into family life.
There are good performances all round, with Maika Monroe another memorable final girl, but the film really belongs to Adam Wingard and his regular collaborator Simon Barrett. Barrett's screenplay has a dark wit and while it probably won't stand up to much analysis, it does at least try to have some political subtext.
Wingard's images take centre stage here, with the 80's inflected design reflected in his framing, the lighting choices (heavy emphasis on neon and on bold colours) and extending into the synth driven soundtrack. The style mutates throughout, with the tension of the first half giving way to first an action movie then a great sequence straight of a slasher classic, right down to the closing image.
The Halloween dance setpiece is the film's standout sequence, with shots that nod to Lady From Shanghai (or Enter the Dragon, if you prefer not to associate a movie like this with Orson Welles) and one of my favourite music cues of the year, as the final confrontation plays out to a beautiful remix of Annie's Anthonio.
Wingard may make his influences obvious, but this is clearly his film, and after it I'm anxious to see his next one.
6: The Rover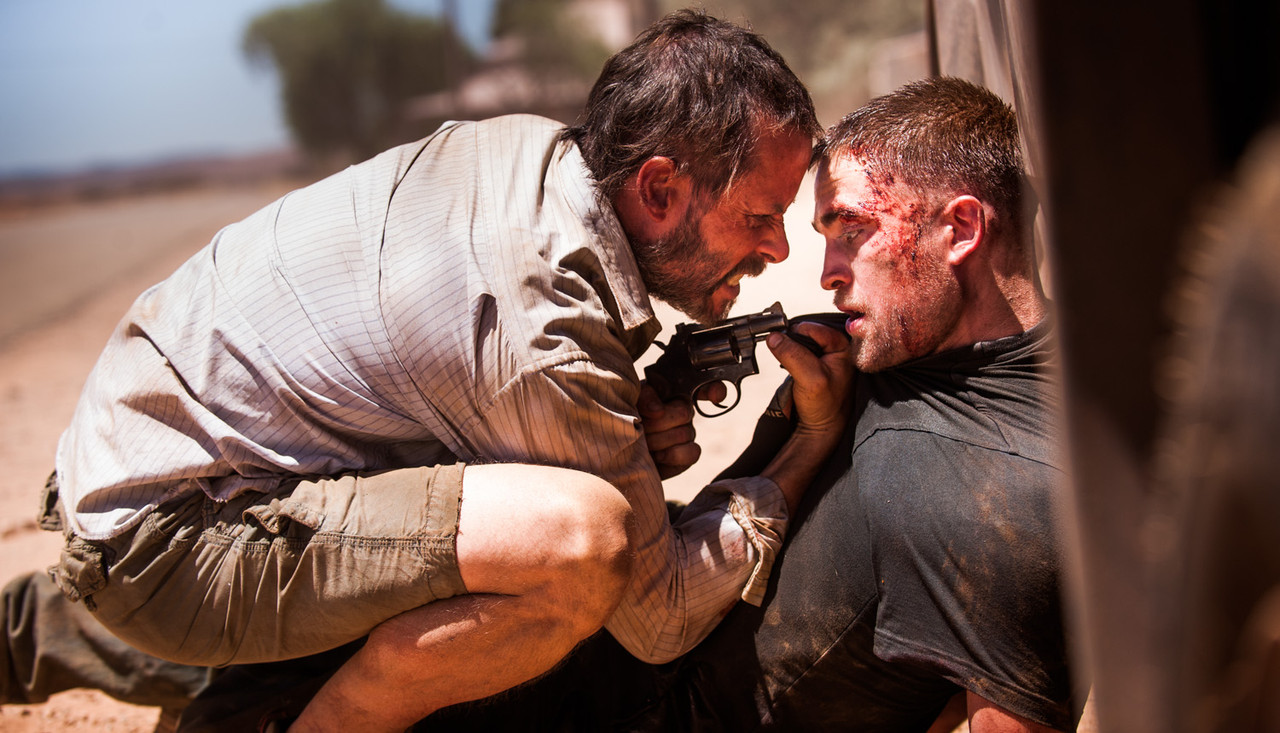 Robert Pattinson has proven to be one of the biggest surprises of the past few years. Having made his name with determinedly expressionless turns in the Twilight series and dozed through Bel Ami, he seems to have suddenly woken up one day and decided to challenge himself. The result has been not just an apparent improvement in his work but a total redefinition of his career. He's become one of the most interesting young actors around.
In David
Michôd's post-apocalyptic revenge flick, Guy Pearce plays a man whose last possession, his car, is stolen. He tears off after the people who took it, soon wounding and capturing their mentally slow brother (Pattinson). This kicks off an unusual, brutal, road movie. Pearce and Pattinson, though both characters of few words here, forge an interesting relationship that develops credibly into something almost brotherly.
I loved the bleak world the film built up, the grim sense of inevitability about the final conflict and the late reveal of exactly why that car was so important, which makes a sad kind of sense given the reality of the film's world. It was only marred by the fact that the discordant soundtrack that helped set the film on edge was sometimes muted by the Bollywood film playing in the next door screen.
5: Stations of the Cross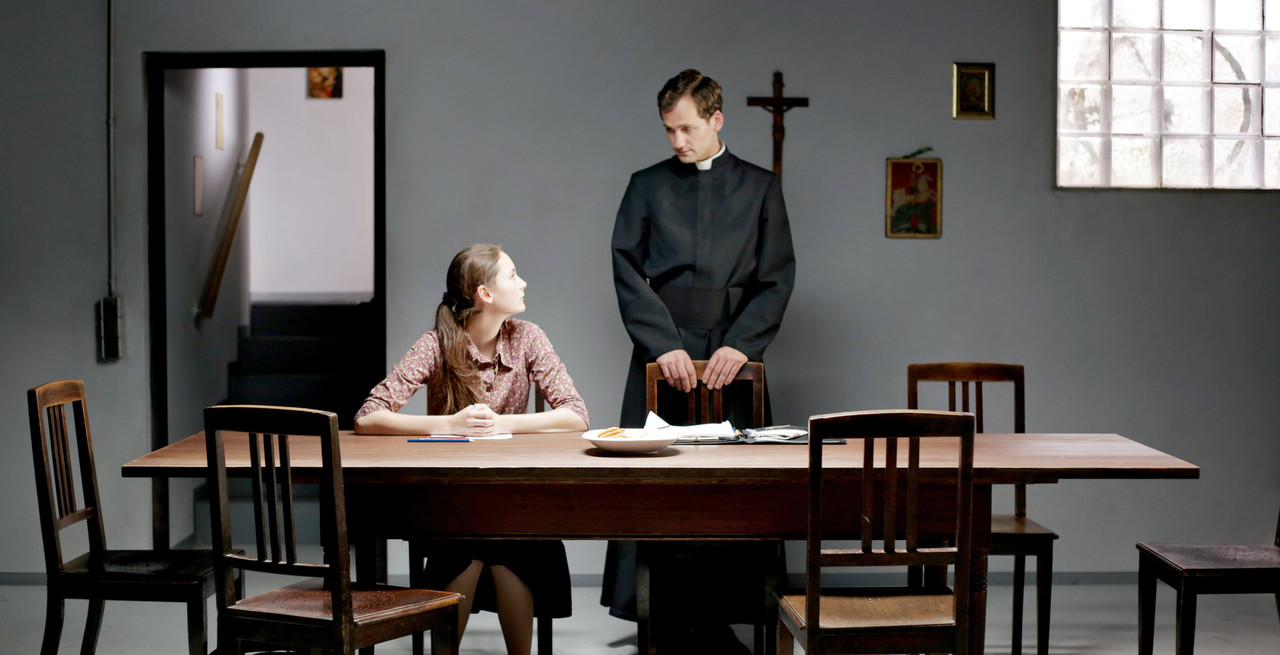 Dietrich Brüggemann's austere coming of age drama, written with his sister Anna, is set amongst a family who are members of a strictly traditionalist Christian sect and centres around 14 year old Maria's (Lea Van Acken) desire both to have a tiny measure of normality in her life and to please God, partially in the hope that her autistic youngest brother will be cured.
Telling his story in a series of almost entirely static tableaux, with titles mirroring the stages of Christ's journey to crucifixion,
Brüggemann signals pretty heavily where things will end up, but the best things here are in the details, rather than the overarching plot (which can lean a bit too heavily on a strained metaphor by the end).
The static camera serves twin purposes. In medium to long shots it forces you to get sucked into each frame, exploring the details and watching for the nuances, this is especially effective in a dinner table scene when Maria is punished for talking to a boy and lying to her mother (a scary
Franziska Weisz) about. There are many subtleties in the physical performances that speak volumes about how the other characters are reacting to this moment and your eye is forced to them.
In closer shots the static camera forces your attention on to the tiniest subtleties of the performances, and Lea Van Acken delivers a spectacular début. In the film's finest scene she confesses her 'sins', the most serious being a passing fantasy about holding hands with a boy. The camera is tight on her the whole time and every little nuance, every feeling, comes through in her face.
The last 20 minutes are sometimes a little heavy handed, but that can't stop Stations of the Cross from being a must see.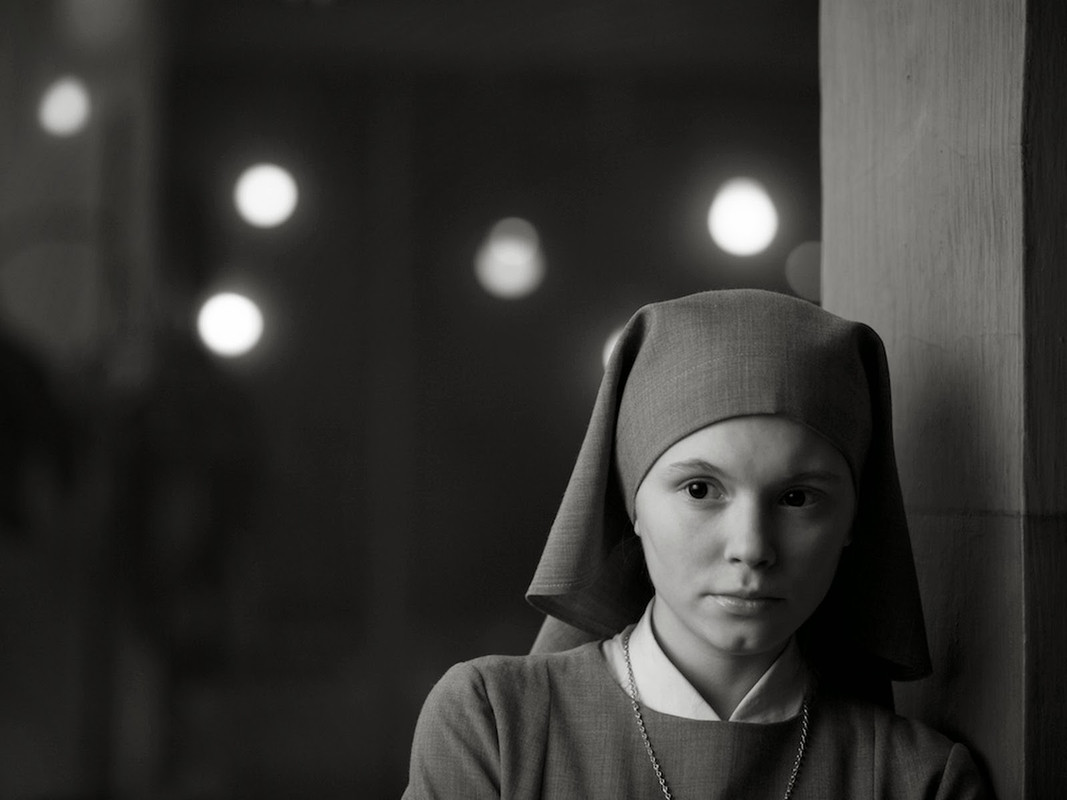 Ida does have a meaningful, moving, story (about Anna, a young nun in training who, before taking her vows, goes on a road trip with more wayward aunt to find the graves of her parents, murdered during the nazi occupation of Poland) and two exceptional performances at its centre, but it exists in my mind, and has done since 2013's London Film Festival, largely as a series of images.
By far the most beautiful film of 2014, Ida's imagery is all the more remarkable in that Pawel Pawlikowski's longtime cinematographer, Ryszard Lenczewski, who apparently didn't like the idea for the film, left days into shooting, leaving his assistant Lukas Zal to make his debut as a cinematographer on a feature film. Zal more than rises to the challenge. His images have a faded beauty, the black and white conferring an almost otherwordly feel and the exaggerated headroom in the 4:3 frame giving a sense of something hanging over Anna, be it God or the weight of her decision about whether to return to the convent. It's a work of art and one of the most beautifully and originally framed films I've seen for ages.
The performances are perfectly pitched, especially the quiet, contemplative work of newcomer Agata Trzebuchowska as Anna. Lying underneath the journey and the search for her parents is a coming of age story and a relationship, convincingly developed in just a handful of scenes, with a young musician. The outcome of this story is wisely left ambiguous by Pawlikowski. Is Anna returning to the convent in the film's final shot? We're left to decide ourselves, and that's just one more interesting an affecting aspect of this excellent film.
3: We Are The Best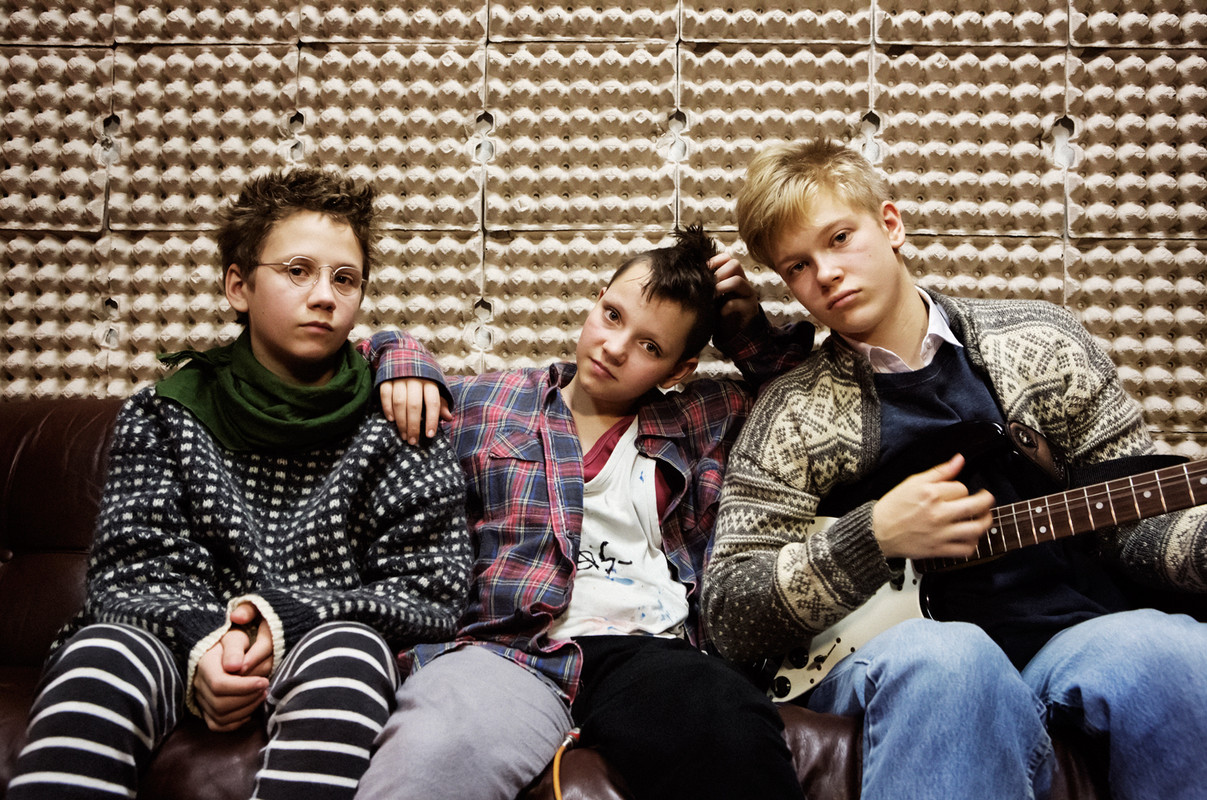 I may have mentioned my love of Lukas Moodysson's first film, Fucking Amal, and while I've liked many of his subsequent films (especially the gut punch that is Lilya 4 Ever), he's never, for me, quite recaptured the connection or the fun of his début.
We Are The Best
, based on his wife Coco's semi-autobiographical graphic novel, feels like a deliberate return by Moodysson to the thematic territory and the setting of
Fucking Amal
, as he once again tells a coming of age story about high school girls.
This time the girls are a bit younger more naive. It's 1982, and if it's not dead, punk is on the critical list, but 13 year old Bobo and Klara (Mira Barkhammar and Mira Grosin) are still dedicated fans. With a battle of the bands coming up they decide to start a band, and recruit Hedvig (Liv LeMoyne), a slightly older girl who is the only one of their band who can actually play an instrument.
There's a real joy about We Are The Best. It moves through the regular motions of a coming of age movie; there are jealous fights about boys and embarrassment at family members (Klara's dad is perfectly played, he clearly loves his kids, but also delights in embarrassing his daughter). You get a sense of Bobo and Klara's closeness and of the way music helps their friendship with Hedvig grow, despite their differences.
It's refreshing that the band don't suddenly become brilliant. Their one song (Hate the Sport) is awful, and it remains awful as their final performance becomes a confrontation, but this film isn't about them being great musicians, it's about them connecting through a shared love of music and that energy, that joy, translates to the audience.
2: The Babadook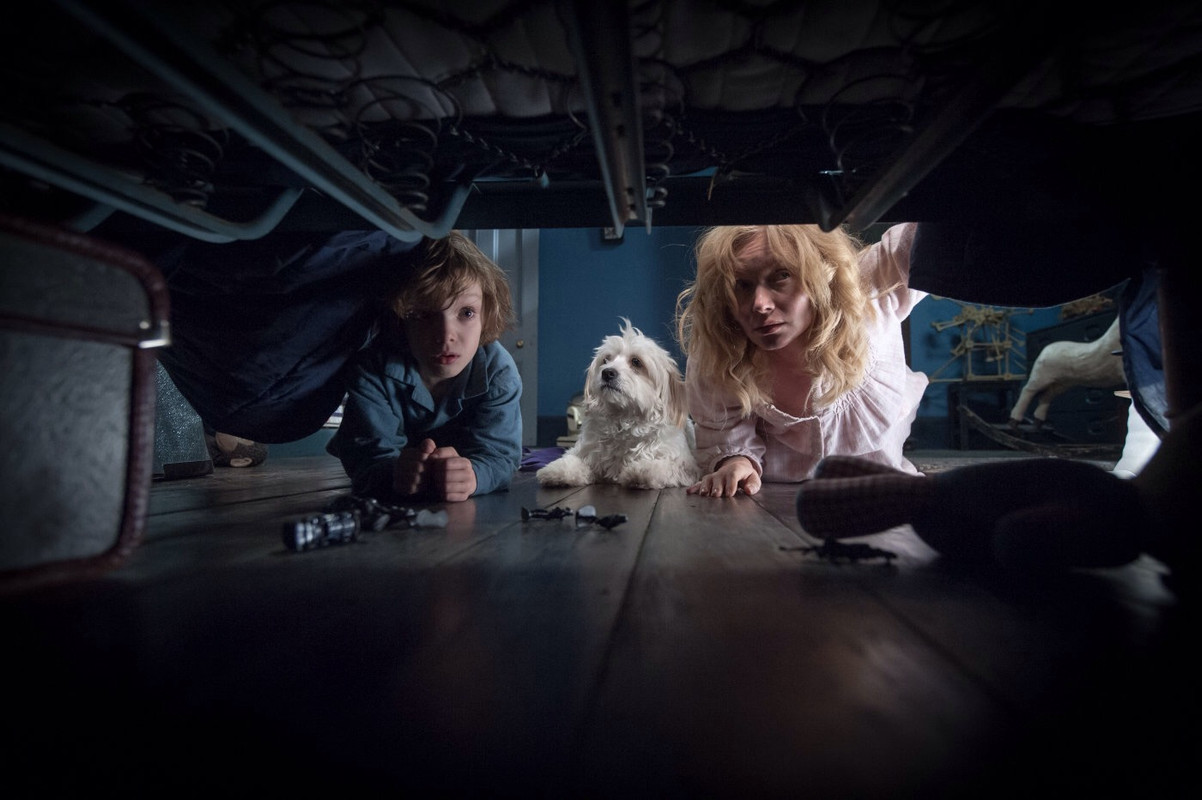 I very nearly missed The Babadook. Few things in cinema bore me like the current trend for 'horror' films that extract all their 'scares' from things going bump just off screen. These creaky house movies all blend into one for me, and the trailer for The Babadook painted it as just one more of them. Happily, horror loving friends assured me that that wasn't all there was to the film, so I took a chance on it.
This isn't a typical horror film. Yes, it has a monster , of sorts, at its heart, but for me it was clear from the outset that this wasn't a film about a literal monster and the the horror of The Babadook was not external, but internal. This is the horror of a woman (Essie Davis as Amelia) whose tragic circumstances - her husband was killed in a car crash while driving her to the hospital to have their son - means that she struggles to truly love her child (six year old Samuel, played by Noah Wiseman). It's a film about the horror of depression, perhaps of PTSD, and of not feeling the one emotion you know you are supposed to feel.
The influences here are less The Others or The Conjuring than more cerebral horrors like Ann Turner's Celia or Bernard Rose's début, Paperhouse; both haunting films centered around children and stories. That said, when director Jennifer Kent does the things that go bump in the night sequences or physicalises the Babadook it works, because it's solidly grounded in the psychology of the characters and there is much more going on behind the scares than just a creaking sound.
The fact that it all pays off is down to the two central performances. Noah Wiseman, who was told that Samuel was a kid who just wants to protect his mother from a monster, is brilliant. There's a haunted quality to him, and his desperate need for his mother to have more connection with him is obvious.
However, the show is stolen by Essie Davis, who gives the best performance of 2014 as Amelia. Her fragility is clear from the off, and she's completely credible as Amelia is possessed by the Babadook/loses her grip on her sanity. That said, her strength, the way she pulls little pieces of it together and finds a way to resist either the Babadook or her personal demons (I know what I believe here, but the rest of my audience seemed to disagree) is also totally credible, and played with moving conviction. It's also worth noting that she has a scream that belongs in the horror hall of fame.
I've not seen a horror film of this depth since Martyrs, and while it doesn't challenge the interpretation of the genre the way that film did for me, The Babadook still has me thinking about it and going over moments in my mind months after I first saw it. It's smart, scary and brilliantly crafted.
1: The Spectacular Now
My film of the year didn't play at cinemas. It didn't get a Blu Ray or DVD release. It didn't get dumped to ITunes. Inexplicably, the UK release of
The Spectacular Now
, which I fell head over heels for at the London Film Festival in 2013, was direct to Google Play. Really. Google Play.
I believe I've made it clear before that I've always loved and been interested in coming of age movies, but I've been disappointed by much of the recent crop out of the USA, especially since they have refocused on trite YA novel adaptations.
The thing that really blows my mind about The Spectacular Now is that this beautifully observed piece, full of realistically flawed characters who you root for because you recognise them, was delivered by the same screenwriters who gave us 2014's worst film, this movie's evil twin, The Fault In Our Stars.
Of course, the success of this film isn't entirely down to Scott Neustadter and Michael H. Weber's witty and emotional screenplay, and the way I felt it picking at my memories of high school, the performances are also outstanding.
Miles Teller has been a name to watch for a while, but for me he really confirmed his promise here. As Sutter he cuts rather a sad figure, especially as the film goes on and you see how deep his problems - a fondness for a drink that has become a functional alcoholism - run and how much of his fun loving personality is a cover for his insecurity. Teller plays all this without needing to spell it out, often letting a little gesture or a look speak for him.
Teller has great chemistry with Shailene Woodley, who plays Aimee; the wallflower who he initially says he's just trying to bring out of her shell, but falls into a relationship with. One of the best things about both the script and the performances is that you can feel their connection and see why they are drawn to each other, apart from being two attractive people of similar ages. Woodley keeps it simple in every aspect. Aimee's heart is worn on her sleeve most of the time and her straightforward nature is even reflected in the simple clothing choices she makes and her lack of make up, there's a sense of a person with no artifice about her.
Even the characters with limited screen time - Brie Larson as Sutter's ex, Jennifer Jason Leigh and Kyle Chandler as his estranged parents - have rounded characters and stories, and are brilliantly played.
Much of The Spectacular Now reminded me of a down to earth take on Cameron Crowe's Say Anything, and that continues right up to the final shot and cut to black, leaving the film on a beautiful ellipsis that we'll never see the end of. It's a moment that fits perfectly with the film's bittersweet tone.