Dir: Michael Winterbottom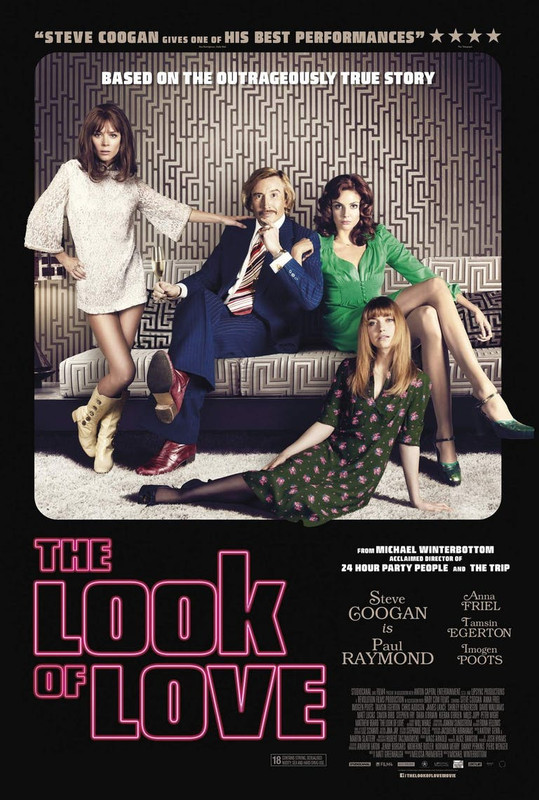 Michael Winterbottom is one of the most prolific directors of recent times, generally completing at least one film each year for the past two decades. As with almost any filmmaker with that sort of work rate, his films have a tendency to be hit and miss, but when he hits his work can be exhilarating, skipping with ease from one genre to another, adjusting his style film by film. Unfortunately, despite many elements that seem promising on paper, The Look of Love represents another off day.
Two of my favourites of Winterbottom's films; biopic 24 Hour Party People and satirical literary adaptation A Cock and Bull Story, have teamed him with British comedian Steve Coogan. Here the pair re-team, on a project that seems close in spirit to 24 Hour Party People. Coogan plays Paul Raymond; porn impresario, property magnate and one time Britain's richest man, and the film follows him through about thirty five years, from building up his fortune and then largely through the lens of his relationship with his daughter Debbie (Imogen Poots), who he wanted to make his successor, despite her drug addiction.
The problem with The Look of Love is essentially that it fails to find a consistent tone, veering from farce to serious drama. Winterbottom's casting hardly helps matters in this respect, as casting a lot of recognisable British TV comedians suggests a comic tone that is sometimes at odds with the content. It especially doesn't help the few of the comics truly inhabit their characters, David Walliams, for example, could have stepped out of Little Britain as a priest who ministers to Raymond's strippers. It also gives the film a rather televisual feel, which, despite a decent sense of period, Winterbottom's direction fails to alter. In these terms, sadly, Steve Coogan is probably the worst offender; he essentially plays Raymond as a variation on Alan Partridge, rather than disappearing into the character the way he did as Tony Wilson in 24 Hour Party People. The overwhelming feeling is one of 'oh, look, Steve Coogan in a wig'.
In the few scenes where he dials back the Partridge and embraces what is a life story packed with serious incident (family breakdown, drug addiction, terrible loss), Coogan is better and the film more engaging. The overarching story isn't really that of Paul Raymond but of his relationship with Debbie (and to some degree his lack of a relationship with either of his sons), and it's in the scenes with Imogen Poots that Coogan and the film are at their best. It's not delved into with the complexity you might wish for, but the relationship between Paul and Debbie is well played, and Poots' performance finds a way through the tonal mess and is rather affecting, especially in the way that Debbie is always out to impress and please her doting Father. Poots really excels when playing Debbie's forays as a performer; being believable as a bad actor and singer is really tough, but Poots makes doesn't push the boat out too far and make Debbie look comical, instead she gives us someone who is trying her utmost, but just isn't very gifted. It's a rather sad performance, and easily the best thing in the film.
The rest of the film essentially pivots around the other major women in Raymond's life; Men Only columnist and later sexploitation star Fiona Richmond (Tamsin Egerton) and his second wife Jean (Anna Friel). Both are disappointingly peripheral figures, their stories rather rushed through to keep the film at a speedy 101 minutes. It's a particular shame to see the talented Friel, who I've long thought would be a great fit for Winterbottom, in such a perfunctory role and exploited in a scene that documents the fact that Jean posed for Raymond's Men Only magazine, which the film then does nothing with.
Winterbottom, Coogan and screenwriter Matt Greenhalgh seem to go out of their way to avoid any judgement of Raymond, and that just makes the film rather shallow and dull. In the moments when it attempts to shock us with depravity (for instance Raymond telling Debbie that if she's going to do cocaine she should at least do the good stuff) it generally fails for the same reason much of the rest of the drama fails; it seems out of kilter with the comedic tone of the rest of the film.
Ultimately, Paul Raymond comes out of The Look of Love looking like a crap parent and a rather sleazy guy, but throw a stone in any town and you'll be within striking distance of 3 men like that, and what this film doesn't do is make Raymond seem any more interesting than any of them. It feels like one of Winterbottom's intermittent nods to the mainstream, but he's best when he's riskier, messing with form as he has in his other projects with Coogan. Most disappointing is the lack of emotional engagement, which Winterbottom can do (look at Jude or Butterfly Kiss) and which, given the event this film begins at and subsequently circles back to, should be the centre of the film.
I understand that the film had to be retitled from King of Soho because Raymond and Jean's son Howard is planning a biopic under that title, but honestly I'd much rather see a film about Debbie next time.
★★☆☆☆