I've been attending the London Lesbian and Gay Film Festival for a couple of years now, but this year I'm spending longer than ever before on it, thanks to a fantastic looking programme of fiction and, especially, documentary films.
I can't possibly cover everything in as much detail as I usually do, but here (over two posts) are mini-reviews for the eight films I've seen so far (with more to see on Saturday and Sunday).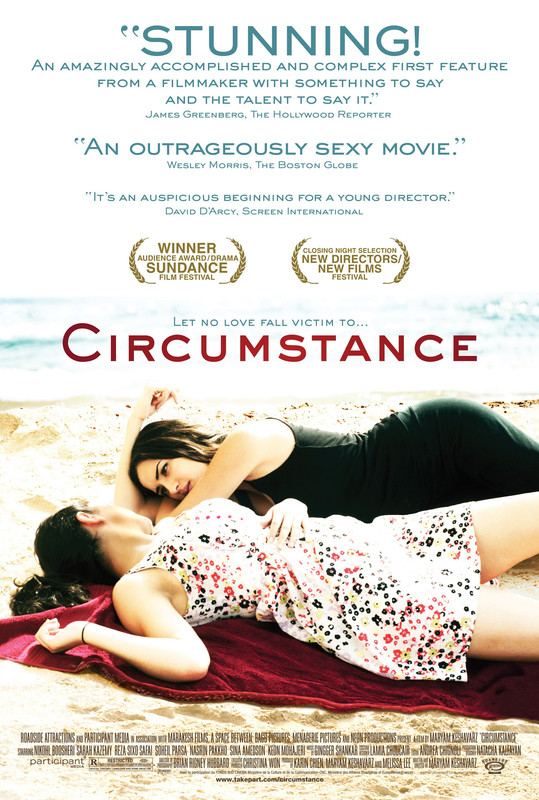 I've been hearing about, and interested in seeing, Circumstance since it first screened at Sundance in January of 2011 (I'm surprised LLGFF only has it this year). It's especially interesting, and perhaps important, as a film coming from a largely Iranian cast and crew, because of the way its subject matter reflects if not on the events of the Arab Spring (it was made before that really happened, and had been in development for years anyway) then certainly on the climate that allowed it to happen. Sadly, this context is really the only thing that makes the film especially interesting.
The film has two stories that it attempts to intertwine. The first is about 16 year old schoolgirls, Atefeh (Nikohl Boosheri) and Shireen (Sarah Kazemy), trying to be relatively normal teenagers despite the ways that Iran's social policy, and particularly the morality police, make that difficult. It soon becomes clear that there is also an attraction between the girls. At the same time, Shireen's brother Mehran (Reza Sixo Safai) has returned home having kicked drugs, and has become a much more hardline Muslim and a member of the morality police, bringing him into conflict with his family. The story concerning Mehran's continuing hardening stance on moral and religious issues, the morality police, and how that conflicts with the liberal views of his sister and her friends (one very funny scene finds them dubbing Milk into Farsi), works well, brings an intense undercurrent of tension, and feels timely.
Unfortunately the romance between Atefeh and Shireen doesn't work so well. It lacks the weight of the political angle of the film, and while there are some sensually shot scenes between them, I didn't really feel the often spoken about heat and chemistry between them, nor did I feel any real urgency to be invested in the relationship. That's perhaps because, for much of the film, the relationship story takes a back seat, and the two sides of the film, while they affect each other, don't really mix. For the most part a scene is either Politics or Relationship, and as a result the film feels choppy and confused about its own identity.
There are good things here, but I wish Maryan Keshavarz had pulled the relationship story into sharper focus.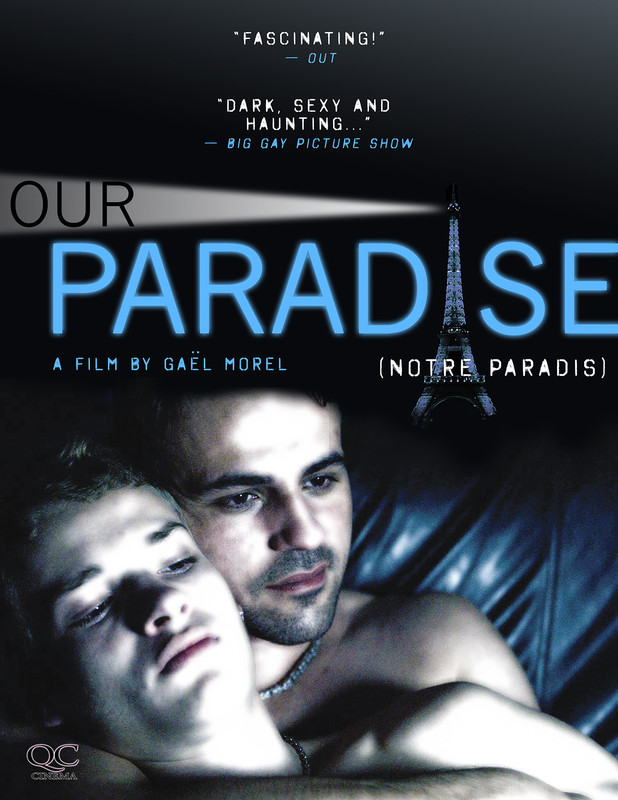 Gael Morel's latest film follows a (relatively speaking) older male hustler named Vassilli (Stephane Rideau), in the first scene of the film we discover that he sometimes murders his clients. Soon after, he meets a young rent boy (Dimitri Durdaine), who won't give his real name, so Vassilli names him Angelo, and they quickly fall in love. This doesn't mean that the killing stops though, and after one of his victims turns up alive Vassilli and Angelo flee to Lyon and take refuge with an old friend (Beatrice Dalle) and her young son.
There are two sides to Our Paradise, on the one hand it feels almost like a take on Henry, Portrait of a Serial Killer, and on the other there is the love story between Vassilli and Angelo. The part dealing with Vassilli's crimes works less well, because there is little insight into the reasons for his actions. If anything the crime subplot at first feels like a rather contrived way to get Vassilli and Angelo out of Paris and on their way to Lyon, and it only becomes truly sinister in the film's last act, in which a sense of the creation of a twisted family unit makes the threat of violence much more potent.
The love story works better. Vassilli and Angelo's relationship feels rather unhealthy, but it's no less genuine feeling for that (the still above gives a good sense of the relationship; Vassilli gripping the younger man tight both affectionately and possessively). The performances are excellent, with Rideau and the non-professional Durdaine both giving fearlessly exposing performances, and exhibiting some real chemistry, and Beatrice Dalle as striking as ever in a very down to earth role.
If there were a little more depth behind Vassilli's crimes then this might have been great, as it is Our Paradise is impressively acted and often engaging, but also smacks of unfulfilled promise.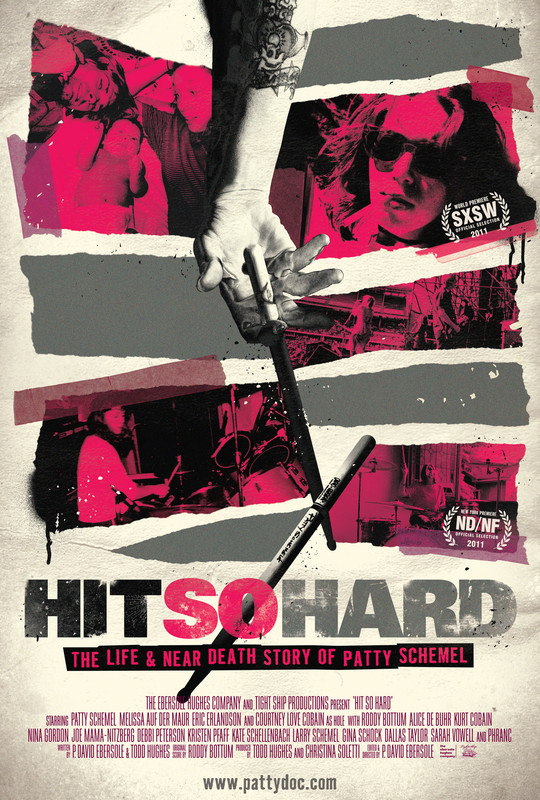 Hit So Hard goes to core of one of the more insoluble questions of a festival like LLGFF: what makes a film one that fits in a programme like this? Former Hole drummer Patty Schemel is a lesbian, she's married to a woman, and they are having (have now had, I'm sure) a child. This film does touch on her sexuality, but it's tangential to the thrust of the documentary, which is about a great rock drummer who was almost destroyed by drugs. Does putting it in a Lesbian and Gay Festival ghettoise it, or does asking that question help enforce that very ghettoisation? Answers on a postcard.
Those questions aside, Hit So Hard is a fascinating documentary. It's built largely from interviews with Schemel, the other members of Hole (including a completely wasted Courtney Love), other musicians, and Schemel's brother and mother, and from footage shot on Schemel's own video camera during her days with Hole. This personal footage is an absolute goldmine, as it catches Schemel and her friends totally unguarded. There are touching scenes of Kurt Cobain with his baby daughter Frances, there are raucous moments from backstage with Hole, and there are intimate conversations captured between Schemel and her friends, especially Melissa Auf Der Maur, recruited as Hole's bassist when Kristen Pfaff died of a heroin overdose.
What really draws you into the story is Schemel herself, her honesty and good humour are disarming, and conspire to make it even more telling and even sadder when she reaches the one point in her story - when she was homeless and a crack and crystal meth addict - where she clearly wants to avoid one traumatising detail. Drugs are one part of the story, music is the other, and Schemel's passion for it comes through strong in both the archive and the interview footage, especially when the very difficult making of Hole's third album, Celebrity Skin is discussed. In one of the greater moments in irony in recent times, this film is named for a Hole song on which Schemel doesn't play.
Hit So Hard is by turns sad, funny, and even inspirational, particularly as, over the last ten minutes or so, captions reveal just how long the journey that Schemel has been on while the film was being made has been. It's interesting and entertaining as a film about one particular person, as a film about drugs and as a film about being in a band. It comes highly recommended, especially if, like me, you grew up with 90's music.
Orchids: My Intersex Adventure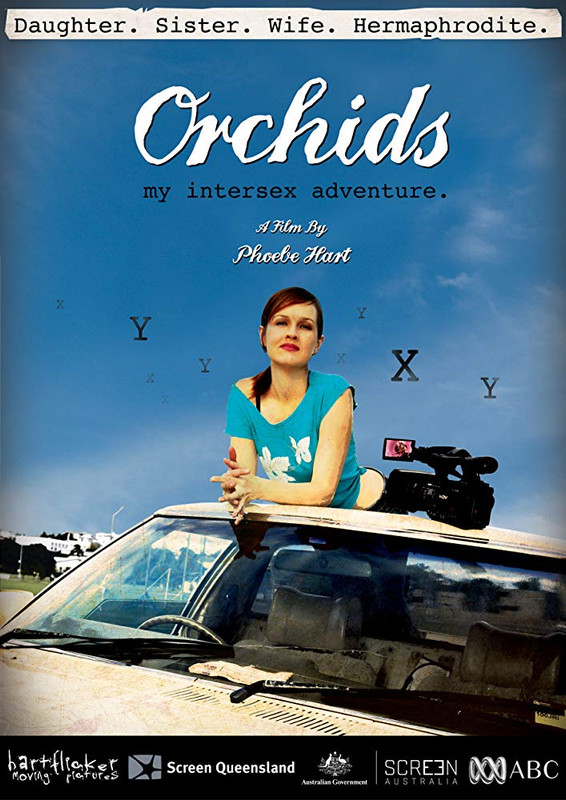 As suggested by the possessive subtitle, Orchids: My Intersex Adventure, is clearly a deeply personal film. Director Phoebe Hart wants to finally bring into the open what has long been her family secret, that both her and her sister Bonnie were born intersex; genetically male, but with a body that would not recognise male hormones, and so developed as female. To this end, Phoebe and Bonnie embark on journey, trying to talk both to intersex people they don't know, and to their family in order to explore is issues around their condition and their identity.
The greatest strength of Orchids comes from its extremely personal nature. What drives it is a sense of Phoebe trying to come to terms with her childhood, and the way her identity was initially hidden from her and from her sisters, and the different ways in which different parts of the family dealt, and continue to deal, with it. Her parents seem to have largely attempted to avoid the issue, and continue to for much of the film, only agreeing to be filmed or interviewed very late in the process. More forthcoming are the other intersex people Phoebe and Bonnie meet, their stories, and especially that of Phoebe's former photography teacher, who, amazingly, is also intersex, are often extraordinary and moving, even if you sometimes feel the film is drifting from its personal viewpoint here.
Another element that really makes the film engaging is the relationship between Phoebe and Bonnie. Phoebe is more serious, though a genial host for the film, whereas Bonnie comes across as madcap and unpredictable, and is immensely good fun, lightening the mood, often in an inappropriate manner, which makes it all the more amusing.
The film is, however, hamstrung by its origins as a piece for Australian TV, and the strict running time constraints that keep the film to just under an hour, and mean that several threads feel like they need more room to breathe. What's here is fascinating and well presented, but it feels like there is so much more to say, and I'd be happy to spend another hour for Hart and her family to say it.