Dir: François Ozon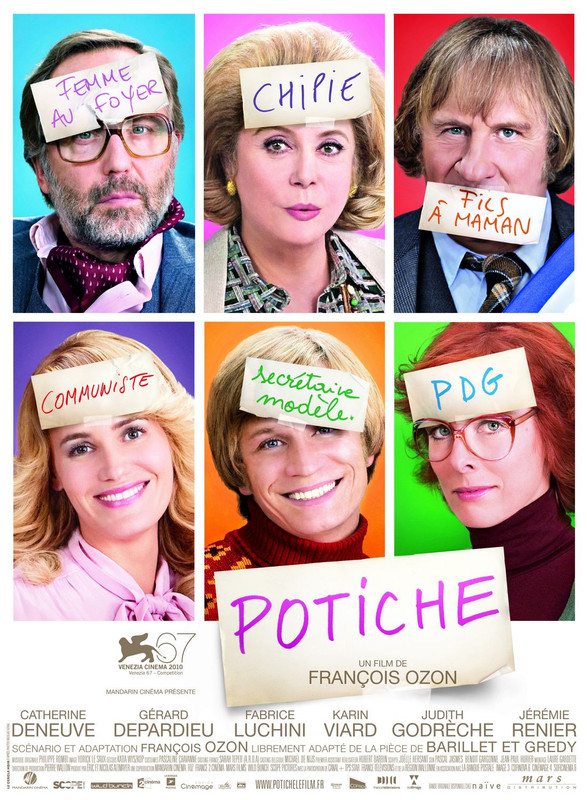 Every time I go and see François Ozon's latest new film, I steel myself. I have to prepare myself for the fact that this, finally, might be the one that trips him up, the film that after over 15 years at a rate of a film a year, finally spoils the best directorial batting average in cinema. Potiche hasn't done it.
An adaptation of a 1980s play, Potiche casts Ozon's 8 Women star, and legend of French cinema, Catherine Deneuve as the titular 'trophy wife' of Fabrice Luchini, who runs the umbrella factory inherited from Deneuve's father. After an employment dispute in which he is taken hostage by his workers, Luchini is hospitalised, and his wife steps into the breech, after asking advice from an old friend and communist politician (Gerard Depardieu).
The above may not read like the ideal recipe, but Ozon mixes all this, and much more, up into a brilliantly sharp and witty comedy. Ozon speaks of balancing the film's comedy with the potential for melodrama, and he's done a masterful job, even during its more melodramatic moments the film tends to remain funny, because the comedy seems woven into the fabric of the film, right down to its perfectly executed 70s aesthetic, which doesn't stop at period detail like the velvet covered telephone and Judith Godreche's Farrah hair, but carries through into such small things as the use and design of the split screens that are occasionally employed and even Ozon's shot choices and cutting rhythms.
As ever with Ozon's work, Potiche looks outstanding. It's a return to the technicolor aesthetic of 8 Women; the film fairly explodes with colour, and the use of colour as a signifier of mood is, if not subtle, beautifully executed (for example the umbrella factory instantly transforms from a grey to a multicoloured world when Deneuve takes over, signifying her warmer approach to the day to day running of the company).
Potiche isn't a reserved or subtle film, the performances are as overblown as the visuals, and the tone is often one redolent of the title of Ozon's first feature; Sitcom. Deneuve is wonderful in the lead, her forced (and enforced) perkiness in the first act giving way to a character who is much happier, in a much more meaningful and real way, during the second half of the film. She's also radiant in the part, 66 when the film was shot, she has aged like a fine wine. Unlike Deneuve, Depardieu hasn't worked with Ozon before, and this anticipated first teaming sees the great actor at his most animated for a while. Depardieu can often be a gruff and dour presence, and so it is a real treat to see him cut loose in a broad comedy, and do it with such apparent zeal. He and Deneuve share great chemistry (just look at the lovely scene where they do a dance number together), and the very obvious fact that they are having a great time is infectious for the audience.
The supporting cast is also strong, with Fabrice Luchini turning his raging patriarch up to 11 in some hilarious scenes, Karin Viard surprisingly complex in what initially seems to be just a play on the saucy secretary of a lot of 70s films and Judith Godreche and Jeremie Renier (returning to Ozon for the first time since the underrated Criminal Lovers) effective as Deneuve and Luchini's polar opposite children.
All too often over the last five years I have found myself sitting in cinemas and watch 'comedies', sinking into a spiral of depression and wondering how the world got to a point where it's trying to convince adults that poo is intrinsically amusing. Happily Potiche doesn't do that, it's a warm film, not a cruel one, where the comedy comes from incongruity, absurdity and the day to day silliness of the way people behave. Ozon also gets a lot of mileage from things we neither see (Luchini's reaction when his son goes to negotiate his release with the workers holding him hostage), nor hear (a very funny scene with Sergi Lopez making a silent cameo as a trucker who gives Deneuve a ride).
The film takes an unexpected detour into politics towards the end, but it does so without sacrificing the precisely judged tone that has prevailed throughout the film, and Ozon finds an ending which is at once gloriously barmy and utterly perfect for the film. Potiche is, at the end of the day, a souffle, it doesn't have the power of Ozon's best dramas like 5 X 2 and Le Refuge, but so what? This is a perfectly executed piece of entertainment, no more or less, it's accessible, charming, and brilliantly made, as well as being yet another confirmation of the fact that, yes, this director really can do anything.
François Ozon is why I go to the cinema, and he's why you should too.
★★★★★