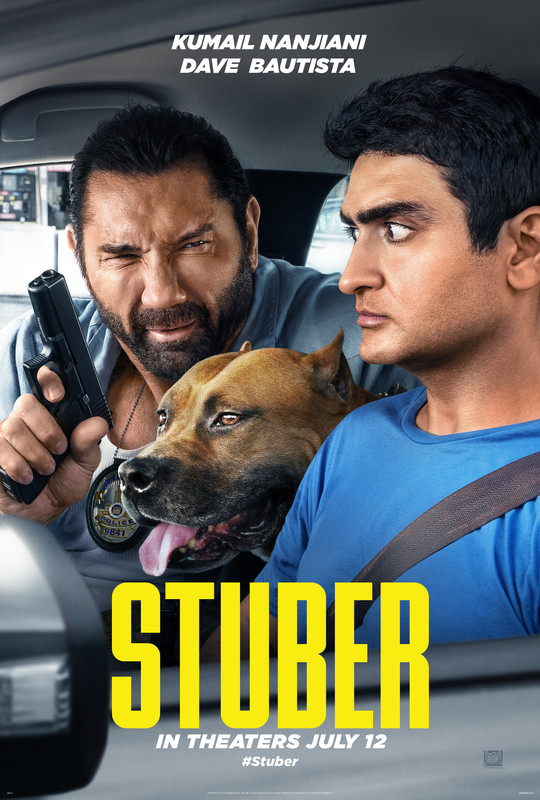 A few weeks ago, Dave Bautista ruled out the idea of being in future entries in the Fast and the Furious franchise because "I'd rather do good films". Stuber is not the film you want to be releasing after that comment.
Bautista plays a cop hunting the drug dealer (Iko Uwais) who killed his partner (Karen Gillan). Taking the day off for lasik surgery, he still springs into action when he gets a tip telling him a huge deal is going down. Because he can't see, he orders an Uber and ends up dragging the driver, Stu (Kumail Nanjiani) into his pursuit of the dealer.
An action comedy that largely fails in both parts of that equation, Stuber has some talented people involved in front of the camera, but flagrantly wastes all of them. Bautista made a strong impression as Drax in the Guardians of the Galaxy and Avengers films, showing a knack for comic timing that makes the fact Stuber isn't funny both more disappointing and more puzzling, but he's also shown some hints of dramatic chops in the likes of Blade Runner 2049 and Bushwick (not a great film, but a decent performance). Here he seems adrift. He doesn't have much of a character to grab on to with his more serious dramatic intentions, just a cliche story of a cop so obsessed with a case that he neglects his family (Natalie Morales as the daughter whose art opening is the same day he's scheduled his eye surgery). His jokes fall flat too, with far too much emphasis put on slapstick that he carries off with little grace, blundering through scenes in much the same way the screenplay does.
In any mismatched buddy movie, chemistry is key; the way people play off each other should get us invested, as the film runs on, in their getting along eventually, and once they do we should invest in the partnership and feel how the experiences up to that point have helped forge it. That doesn't happen between Bautista and Kumail Nanjiani. I liked The Big Sick well enough, but always felt that the sequences of Nanjiani performing comedy were its weakest aspect, he doesn't land many laughs here either and alongside Bautista he helps form a grating pair: the angry cop and the annoying driver, unfortunately, the film takes much too long to advance them beyond these points. The rest of the cast is both underused and badly used. Betty Gilpin may have literally phoned in most of her role as the college friend Stu has long nursed a crush on (a relationship that doesn't make Stu any more likeable) and Mira Sorvino, while it's nice to see her, could have had a much more interesting role as Bautista's boss (those scenes may well be on the cutting room floor because Stuber is at least short). Karen Gillian is as winning as ever in a tiny part and her opening scene with Bautista is easily the most fun the film ever has, their relationship is hardly original, but it's a dynamic I suspect I'd have enjoyed watching for another 90 minutes. Perhaps the most wasteful use of a co-star is reserved for Iko Uwais. His character is never given a personality, but much more criminal is how badly director Michael Dowse handles his two fights with Bautista. I'd happily sit through an even worse version of Stuber if these fights were handled well, but instead Dowse shoots them with a chaotic camera that never lets us see the action. Dowse does a little better with the action when Bautista and Nanjiani fight (in an overblown sequence that would almost certainly kill at least one of them), but that's not the main attraction here.
Only once does everything come together and allow us to glimpse the kind of fun action comedy this might have been. For one blessed shootout sequence the film uses the blindness conceit well, finds a way for Nanjiani to be useful in the action, shoots things competently and has a couple of funny gags. It lasts about three minutes. That's not enough for me to recommend this. Bautista looked pretty foolish when that comment about the Fast and the Furious came out, but having seen this and trailers for both Hobbs and Shaw and Bautista's upcoming My Spy in the same screening, he looks even sillier now.