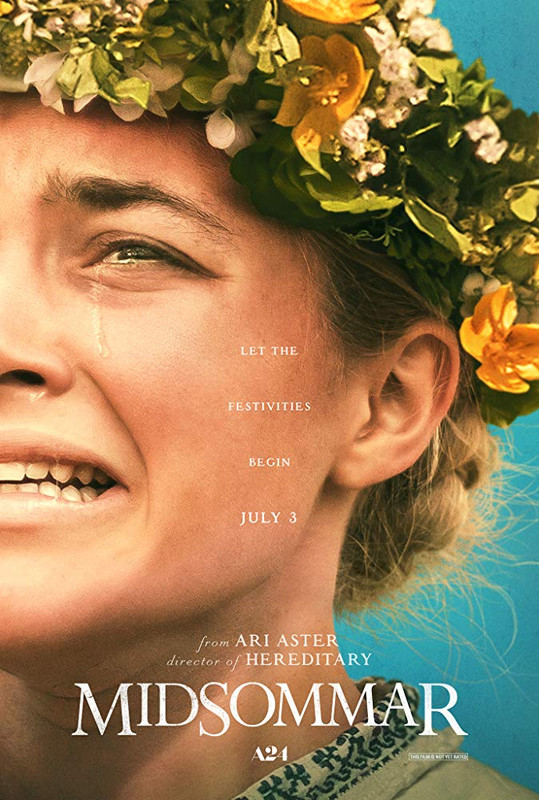 Ari Aster's first film, Hereditary was, for me, a very well made piece with two excellent central performances and one truly great shock, but it also felt very long and wandered off into silliness as it approached its third act, before collapsing completely in the last ten minutes. Little has changed.
After losing her whole family in a tragic incident, Dani (Florence Pugh) tags along with her boyfriend Christian (Jack Reynor) and his friends (William Jackson Harper, Will Poulter) to a once in 90 years summer festival held by the extended, cult-like, family of their Sewdish friend Pelle (Vilhelm Blomgren). Once they are there, things go quickly from intriguing to increasingly disturbing.
For about ten minutes, I thought I was going to love Midsommar. The opening sequence is extraordinary; a gripping introduction that establishes the long running stress and incipient trauma that Dani is going through, as well as how it impacts her relationship with Christian and, further, his relationship with his friends. It also serves up the most disturbing and quietly brutal imagery of the whole film. That imagery recurs occasionally, as do the relationship issues, but otherwise the film leaves most of this behind once it lands in Sweden.
What the film quite quickly becomes once we reach the commune is The Wicker Man in slow motion (Aster is so indebted to that film that he even inserts what appears to be a direct nod to Neil LaBute's awful remake of it). For the bulk of the near two and a half hour running time, we plod through the nine day festival, with exposition conveniently unfolded courtesy of two of the Americans writing their thesis topics on it. There are, to be fair, some disturbing sequences, but everything is so heavily signposted that even these become frustrating as we wait for the inevitable dropping of the other shoe (for instance, it takes about ten minutes to get to the end of a marathon maypole dance, when we know exactly who is going to be left standing from the first second).
As with Hereditary, the further Aster gets into his running time, the sillier his film becomes. The over the top gore of the first scene that alerts the new arrivals to exactly what is going on in this community is probably supposed to be funny at some level, I'm less convinced that's true of the sex scene in the third act, or the climactic moments of the film, but both produced more sniggers than screams in my audience.
With all that said though, Midsommar is also proof that Ari Aster is a formidably talented filmmaker. For all that the pace doesn't work for me, there is a precision to it and to everything else in the film that speaks to a writer/director with an instinctive control over his work. There are some wonderful little moments, like the simple cut that takes Dani from Christian's apartment on to the plane to Sweden, but what is most striking is the overall design of the film. Though he draws heavily from The Wicker Man, Aster does also establish a distinctive look for his commune, with runic design everywhere in the set and prop design and a precision in his framing that makes that design all the more striking. This is also aided by an unnerving score from The Haxan Cloak. Further to his credit, Aster has assembled an excellent cast, with the gifted Florence Pugh turning in another superb performance in the lead and Jack Reynor continuing to prove that he's among the most interesting actors in his age group. Those two, in particular, play off each other very well, and William Jackson Harper and Will Poulter help build a believable dynamic between the guys.
As with Hereditary, I can see and acknowledge all these strengths, but I also have to acknowledge that, as a whole, Midsommar simply doesn't come together for me. While the first ten minutes are full of raw emotion, that almost vanishes once we reach the commune, and it certainly isn't felt in the third act. One of the great and paradoxical qualities of The Wicker Man, for me, is that it's ending always seems both the only logical conclusion to the film and something I can't believe I'm seeing. That's not the case here for me. The final act - in general, if not in all its specifics - is one that seems a foregone conclusion from the very earliest scenes in the commune, and that drains it of almost all power.
Midsommar pales next to great recent folk horror like Robert Eggers' The Witch and Lukas Fiegelfeld's brilliant Hagazussa, which both look to the history of the genre without so specifically evoking a single film. There's no question that Aster is a talent but at this point, he seems to be one whose films are, quite simply, not for me.