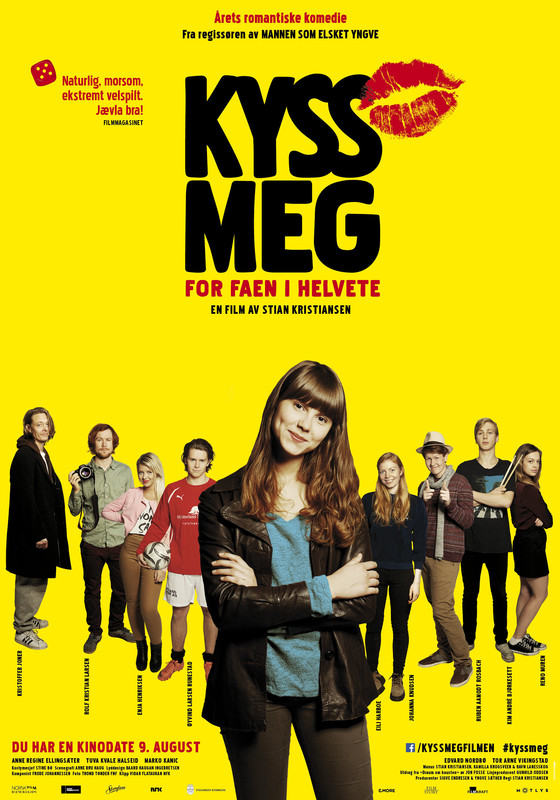 I knew that I had to see this Norwegian coming of age movie as soon as I read the title (which, sadly, seems to have been reduced to
Kiss Me, Damn It
for international release). As attention grabbing and as great as that title is, it also primed me to expect something quite different from what I got. I went in expecting a knockabout teen comedy, what I got tended much more to drama, but it hit me in ways I didn't expect.
Tale (Eili Harboe) is seventeen years old, living in a small rural town in Norway, and wants to be an actress. She's in an amateur acting troupe with a few friends but they are bored of staging silly revues. Instead of another revue Tale suggests that the group stage a play by Jon Fosse (a famous Norwegian playwright). She badgers Lars (Kristoffer Joner), a famous actor who has turned up in town to stay with a friend and deal with a mid-life crisis, into directing them and he insists on casting a local troublemaker, Vegrad (Øyvind Larsen Runestad) as the male lead. A method director, Lars insists that Tale and Vegard spend time together in order to give better performances. Guess what happens.
You couldn't call Kiss Me, You Fucking Moron an original film. It runs through the typical beats of a coming of age movie. The boy and girl hate each other, they spend time together, find common ground, become friends, some obstacles get thrown up... it's all pretty standard. I've always said that the fact that a film is generic doesn't have to mean that it's bad. Genre structure is laid down because it has been proven to work, but conforming to genre does mean that you have to deliver quality work to stand out. This is exactly what Stian Kristiansen and his cast do here.
The young leads in this film have a difficult job, in many scenes they have to be acting on a lot of different levels; playing actors who are playing a part, to varying degrees of success, but also letting their character's concerns beyond the scene come through and inform the drama outside the play within the film. This is just one of the ways that Eili Harboe stands out here. Tale is clearly supposed to be a pretty good actress to begin with, but we have to see both a progression through rehearsals and the crush that she has on Vegard which informs much of the way Tale plays scenes in the second half of the film. Harboe does all of this beautifully, there's always a lot going on underneath the scenes when Tale is acting, and she has an understated naturalism outside of those scenes that helps the film remain credible when the screenplay is sticking resolutely to genre convention. It's hard to believe that this only her second acting job, but I really want to see more from her in the future.
If playing a good actor is tough then playing one who starts out bad and then has to progress, while also giving a strong performance outside of acting scenes, must be tougher. Øyvind Larsen Runestad is excellent as Vegard, particularly as the bravado of the bully we see in the early scenes begins to fade away as he and Tale hang out and get to be friends. After seeing the first couple of scenes that he appears in and then discovering that he was to be the film's male lead I was concerned that there would be no way to have sympathy for Vegard, but slowly the screenplay and Runestad's performance allow us to warm to him. This is also helped by the fact that Tale is going through the same process, and Harboe plays it so well that we start to see things through her.
The only name in the cast list that was familiar to me coming into this film was that of Kristoffer Joner, a Norwegian actor who I've now seen in several projects and always been impressed by. He's got a character actor's face and talent to match, it's really only the lack of a big crossover hit that, I think, is keeping him from being much better known outside of Scandinavia. Here Joner is typically excellent as the initially reluctant director of Tale's play. It's as much of a process seeing him warm to the kids in the acting troupe as it is watching the relationships between them. He doesn't, for the most part, do a lot of heavy dramatic lifting, but there is a rumpled charm to the character and hints of something painful behind why he's ended up in this small town. Late in the film, we get to hear the story behind this, and Joner delivers it perfectly. Between his performance and Harboe's as Tale listens and reacts to his story, it's perhaps the best scene in the film.
The lively but believable performances of the leads and the supporting cast really drew me into this film, it's in some of the writing that Kiss Me, You Fucking Moron lets itself down. For the most part, the interactions between the teenage characters are nicely observed. This is especially true of scenes between Tale and Vegard as they spend more and more (mandated) time together and we see them grow closer. On the other hand, there are threads that are left underdeveloped, perhaps falling victim to the film's tight 93 minute running time. For instance, when we first meet Lars he appears to have an alcohol problem, but this gets shunted out of the way pretty quickly, and a storyline involving Vegard's girlfriend gets an almost insultingly prosaic final scene. Perhaps the most random, out of the blue, inclusion is a scene in which Tale's previously (and subsequently) unmentioned band play a song, it's a nice scene, and demonstrates that Harboe has another string to her bow besides acting, but it does feel like it's been parachuted in from another film.
On the whole this is an engaging, involving and charming film. Stian Kristiansen deftly combines the small dramas that make up Tale's life with a light sense of humour. There's a good tonal balance here; it's never too knockabout, but never as dark as many of the teen movies we see from Europe and Scandinavia. On the surface, it seems a little slight at times, but the performances are emotionally engaging and lend a depth to the final film that may not have been entirely present on the page. If like me, you're a fan of teen and coming of age movies then this is one that you really ought to track down, it's not quite what you'd expect from the title, but that's no bad thing.
★★★★