More from the biggest fest of them all, and interesting films abound.
OUT OF COMPETITION
The Imaginarium of Doctor Parnassus
Dir: Terry Gilliam
Heath Ledger's last film, completed after his death by Gilliam, who cast Colin Farrell, Jude Law and Johnny Depp as different sides of Ledger's character's personality. Gilliam has been off the boil of late, with Tideland and The Brothers Grimm underwhelming their small audiences, but this looks like he's let his imagination explode on to celluloid, even if it's not great it should be both beautiful and interesting.
The Army of Crime Dir: Robert Guediguian
Agora
Dir: Alejandro Amenabar
A departure for Amenabar – a historical drama set in Roman Egypt, about an affair between a slave and his mistress, philosopher and atheist Hypatia. Amenabar's second English language film has a strong sounding cast toplining Rachel Weisz and rising star Max Minghella
MIDNIGHT SCREENINGS
A Town Called Panic Dir: Stephane Aubier, Vincent Patar
Ne te retourne pas
Dir: Marina de Van
Marina De Van remains behind the camera for this, her second feature. She's got a very strong cast, including Monica Bellucci and Sophie Marceau. The summary makes it sound like an exploration of the themes of identity that David Lynch explored in the bottomlessly baffling Lost Highway. De Van's In My Skin was a promising debut, and with this strong cast and her focus not split between acting and directing I'll be interested to see what she comes up with here.
Drag Me to Hell
Dir: Sam Raimi
Raimi's return to horror is collecting appreciative reviews, especially for its director and for star Alison Lohman (who, on the back of Matchstick Men, really ought to have been the next big thing). It looks like a pretty generic bit of supernatural horror, but done effectively that should be fun.
SPECIAL SCREENINGS
Petition Dir: Zhao Liang
L'epine dans le Coeur
Dir: Michel Gondry
I've no clue what this is, Gondry's IMDB page (which runs into 2011) has no listing for it, but it's Michel Gondry, so I'm automatically interested. He's hit and miss, sure, but he's never, ever boring.
Min ye Dir: Souleyumane Cisse
Jaffa Dir: Keren Yedaya
Manila
Dir: Adolfo Alix Jr., Raya Martin
Fillipino actor Piolo Pascual (pictured, you're welcome ladies) takes different leading roles in each of Manila's two segments (Day and Night). In the first he plays a drug addict, in the second a bodyguard. Both of its directors (who don't appear to have worked together before or since) have since completed several more films.
My Neighbor, My Killer Dir: Anne Aghion
I wanted to see this at the Human Rights Watch film festival, but wasn't able to make the one screening. It's a documentary covering attempts at reconciliation between Tutsi and Hutu communities in Rwanda in the years following the genocide. It sounds like it could be harrowing, but truly worthwhile.
UN CERTAIN REGARD
Samson & Delilah
Dir: Warwick Thornton
Not the biblical story, but a romance set in the Central Australian desert, told in English and Aboriginal languages. The cast appears to be largely composed of newcomers.
Adrift Dir: Heitor Dhalia
The Wind Journeys Dir: Ciro Guerra
Demain des l'aube
Dir: Denis Dercourt

It doesn't matter what this is about, it doesn't matter who is in it. Denis Dercourt's (pictured) last film was The Page Turner (which was the very first Why haven't you seen? post), I'm there for this one whatever it is. It shares a title with a Victor Hugo book, though whether it is based on that book I don't know and, promisingly, it stars Vincent Perez and Jeremie Renier.
Irene Dir: Alain Cavalier
Air Doll
Dir: Hirokazu Kore-eda
A sex doll, played by the wonderful South Korean actress Bae Du-na (pictured) develops human feelings and, unknown to her owner, falls in love with a man she sees walking in a video store. There have been several films about relationships with ultra realistic sex dolls of late (Love Object, Lars and the Real Girl) and this sounds like another fascinating exploration of the idea.
Independence Dir: Raya Martin
Le Pere de mes enfants Dir: Mia Hansen-Love
Dogtooth Dir: Yorgos Lanthimos
Nobody Knows About the Persian Cats Dir: Bahman Ghobadi
Eyes Wide Open Dir: Haim Tabakman
Mother
Dir: Bong Joon-ho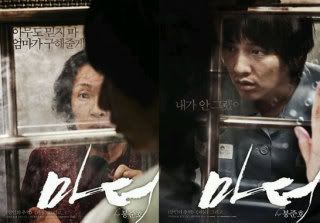 The latest from the director of The Host sounds like a return to the territory of Memories of Murder, as he tells the story of a Mother searching for the killer who framed her son for a grisly murder. It looks to be Bong's first film in some time without his lucky charm Song Kang-ho, but the plot and director are enough to grab my interest.
The Silent Army Dir: Jean van de Velde
To Die Like a Man Dir: Joao Pedro Rodrigues
Police, Adjective
Dir: Corneliu Porumboiu
The Romanian new wave is generally thought to be producing some of the best films in the world right now. This, from the director of 12:08 East of Bucharest (pictured), follows an undercover cop unwillingly investigating a teenage pot dealer in Caucescu's Romania.
Tales from the Golden Age
Dir: Hanno Hofer, Razvan Marculescu, Cristian Mungiu,
Constantin Popescu, Ioana Uricaru
More from new Romanian cinema, this a portmanteau by five of its leading lights (including the award winning director of 4 Months, 3 Weeks and 2 Days.
Tale in the Darkness Dir: Nikolay Khomeriki
Tzar Dir: Pavel Lounguine
Nymph
Dir: Pen-ek Ratanaruang
I'm yet to see any of this acclaimed Thai director's films, though I've been wanting to catch The Last Life in the Universe. All that is known about this one is that it's a supernatural drama.
Precious
Dir: Lee Daniels
Next time: Director's fortnight and Critics week