Mickey Rourke is back, and Kerri "Andie from The Goonies" Green (who, incidentally, would otherwise have been on this list) has a film out this year, so here are a few more actors who I'd love to see make a comeback. Some haven't been on screen for a while, some are still appearing, but desperately need better projects or roles. The list is alphabetical by surname.
Robert DeNiro
In the seventies and eighties DeNiro was, basically, God in the form of an actor. He could do almost no wrong, strike almost no false note on screen. He always threw himself, body and soul, into his roles, and his rabid dedication to both good material and methodically building a character until he became them resulted in some of cinema's truly indelible performances. Johnny Boy, The young Vito Corleone, Travis Bickle, Jake La Motta, Rupert Pupkin, Al Capone, Jack Walsh, Jimmy Conway. That all these characters are one and the same man is still amazing to me. DeNiro's quality control began to slip in the nineties, but he still made some brilliant movies and gave some masterful performances, notably in Heat, but also the much-underrated likes of Casino, This Boy's Life, Wag the Dog and Jackie Brown.
I have a pet theory. I think that DeNiro may actually have died after Jackie Brown, and been quietly replaced with a doppelganger, because only that or a complete and successful talentectomy can really account for the last twelve years. In these dozen years DeNiro has gone from being the electrifying live wire he once was and become a lazy, lazy ham. His charmless forays into comedy are played with comic timing set by a broken metronome and, in Stardust, a lack of subtlety that almost unbalances what is already a rather silly (though fun) film. His drama is even more depressing, in the recent Righteous Kill he appeared near comatose next to Al Pacino (whose career also needs major surgery), and was almost upstaged by 50 Cent - 50 fucking Cent. DeNiro desperately needs to call his old friend Martin Scorsese, and beg him for a part in whatever he's got going next, though it has to be said that reuniting with Michael Mann for Frankie Machine sounds like a smart move. I really hope we get another performance out of DeNiro that's worthy of the great man.
Bridget Fonda
Bridget Fonda never quite became a real movie star, it's hard to account for why, she had the connections (her aunt is Jane, her father Peter), the looks (gorgeous, but characterful) and the talent, but her headlining films never quite took off and it didn't quite happen. It's still a great shame that, since marrying composer Danny Elfman in 2003, and having their son Oliver she has seemingly retired from acting, her last credit to date being 2002 TV film The Snow Queen.
I miss Fonda because she would often pop up in supporting roles and threaten to steal a movie out from under the noses of its stars. For instance, if you saw Michael Caton-Jones' Scandal (and few did), you'd probably be hard pressed to remember Joanne Whalley Kilmer's leading performance, but I'll bet you recall Fonda's deliciously flighty turn, not to mention her striptease. She actually debuted, aged five and uncredited, in Easy Rider, but as an adult Fonda built up an impressive array of roles in films that ranged from excellent to awful. She's especially good in Single White Female, an exploitation thriller elevated purely by Fonda and Jennifer Jason Leigh, in Cameron Crowe's Singles as a woman who wants a breast enlargement to satisfy her boyfriend, she helped make the preposterous It Could Happen to You palatable, and her performance in Nikita remake Point of No Return was one of the film's few strong suits.
It was the 90's that saw her do much of her best work though, and more specifically the late 90's. She's wonderful as aging surfer girl Melanie in Jackie Brown, bringing a great deal to a role that, on the page, was just a girl who sat around in a bikini and smoked dope and gave the performance of her life in Sam Raimi's A Simple Plan, as the heavily pregnant wife of Bill Paxton, who helps him plot how they can keep a stash of found money. That was one of Fonda's last cinema releases, which is a crying shame because it revealed what an interesting and excellent character actress she was becoming. I'd love to see her again, at 45 she's still beautiful and there are too few good actors out there for Bridget Fonda never to work again.
Martha Plimpton
Well, if we can get Andie back, why not Stef? Martha Plimpton is another daughter of a Hollywood family, her dad being Keith Carradine. Martha Plimpton, despite being a distinguished and acclaimed actress, can't seem to shake The Goonies (apparently an audience member yelled "Goonies" while she was playing Hedda Gabler on stage), which is understandable because that movie is part of so many childhoods, my own included, but does tend to do down Plimpton. She racked up acclaimed roles as a teenager in The Mosquito Coast and Running on Empty, both opposite her sometime boyfriend River Phoenix and impressed as Dianne Weist's rebellious daughter, married to lunkheaded Keanu Reeves in Parenthood. Most were supporting roles, but with these and The Goonies Plimpton always seemed to give the roles her all, and bring a ring of truth to her characters.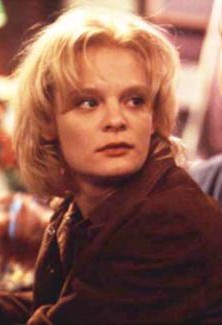 This only became more true as she grew up, prompting some of my favourites of her performances in the nineties. There was a strong supporting role as a hooker in I Shot Andy Warhol, Ted Demme's wonderful Beautiful Girls, in which Plimpton is hilarious as the very angry Jan, who dumps her long term boyfriend Michael Rappaport for an older man, a butcher, much to Rappaport's consternation and Tim Blake-Nelson's directorial debut Eye of God, a quieter, sadder and more introspective piece of work than I'd previously seen from Plimpton, and easily the best performance I've seen from her on film.
These days Plimpton is a (two time Tony nominated) stage actress, appears in TV guest roles and the occasional film that even I've never heard of, she also sings, and apparently gives acting lessons to street kids through a charity. It would be lovely to see this unusual actress get a featured role in a wide release movie, but it seems unlikely.
Christian Slater
Okay so Christian Slater isn't the planet's most varied actor, or its best, but when you give him the right role he eats it up, and even at his worst, he's got a charisma on screen that makes him watchable - even Alone in the Dark is tolerable, though mainly because it's hilariously bad. Slater is often talked about, even in his best roles, as little more than a Jack Nicholson impersonator, and while the two sound similar, and both have a certain mad-eyed edge to them I've never really thought it was affected in the way some people seem to. It's a shame that Slater, despite being popular in the early and mid 90's, never really broke out. It's easy to forget that Heathers, now a cult favourite, and a film that, miraculously, is funnier and more relevant - Big Fun references apart - every year, wasn't a hit when it opened. It made Slater and Winona Ryder's reputations, but it did so organically, being discovered on video. Many follow up films also stiffed; Pump Up the Volume, which gave him a gift of a role as pirate radio DJ 'Happy Harry Hard On' and which, for long periods of screen time, he carries in a series of monologues, was terrific, but made no money and while Robin Hood: Prince of Thieves met with blockbusting success it was a supporting role, and followed by a lead in Mobsters, which sank like a torpedoed ship.
1993's True Romance did work. Slater was brilliant in the lead, essentially playing Quentin Tarantino's idealised version of himself, and it's here that his effortless cool really pays dividends, because as awful as some of the things Clarence does are, you're always with him, always hoping that he and Alabama (Patricia Arquette) will get away, together and in one piece. It's a shame that since True Romance nothing has really seemed to work for Christian Slater. He was in John Woo's much underrated Broken Arrow (the director's best English language effort), but was overshadowed by a hamtastic John Travolta, he was excellent in Very Bad Things, and The Contender, but nobody noticed, and then came the DTV years, which must surely have reached their nadir with Hollow Man 2. A very strong against type performance in He Was a Quiet Man really should have helped, but the film was no match for the performance. Here's hoping that Steven King adaptation Dolan's Cadillac can mark the end of the depressing direct to video rubbish, and give Christian Slater the considerably better career he deserves.
Sissy Spacek
It's a long held truth that there are no decent roles for women over 50, and a cursory glance at Sissy Spacek's recent CV would seem to bear that out. It's a dreadful shame, because Spacek is perhaps the best actor of her generation, and she should be getting offered more than generic 'someone's mom' roles and popping up for longer than ten minutes per film. Though she was an extra in Warhol's Trash, and had a big part in Prime Cut and guest shots on TV including The Waltons, the first time Spacek really got noticed was at 23, playing 15 year old Holly Sargis in Terence Malick's peerless Badlands, but I'll discuss that film (my very favourite) at length another time. She also revealed, in the sadly terrible Ginger in the Morning, a talent for singing that would later serve her well, and be passed on to her daughter Schuyler Fisk, who recently released her first album. The seventies and eighties saw Spacek rack up an array of fine performances, becoming a horror icon and earning an Oscar nomination in Carrie, appearing in Robert Altman's dreamy Three Women, playing Loretta Lynn from 13 to 30 in The Coalminer's Daughter - in which she did all her own singing and won an Oscar, and touchingly voicing the brain that Steve Martin falls for in The Man With Two Brains.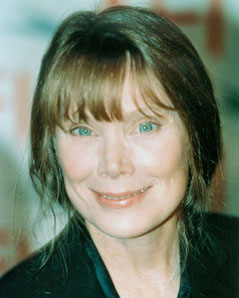 After Crimes of the Heart in 1986 Spacek took five years off cinema, but returned as Kevin Costner's wife in JFK. In the nineties she worked less, perhaps preferring to raise her two daughters, but towards the end of the decade she began to serve notice that there was still a formidable talent here. Supporting turns in the dramas Affliction and The Straight Story were well received, and a warm comic part in Blast From the Past really should have been more widely seen. In The Bedroom was still something of a shock though, as Spacek delivered a performance better than any she'd given since Coalminer's Daughter. If the mark of a great actor is the ability to listen on screen then her passive, pain filled, performance in In The Bedroom is, as much as any of her seventies and eighties work, Sissy Spacek's claim as one of the very best there is. Since then though, it's been depressing, an increased workload, but in colourless parts in awful films. Yes, she's the best thing about North Country and An American Haunting, but the problem is that that's like saying 'the best thing about being punched in the face is…'. Sissy Spacek needs a proper role, and soon, we can't afford to put great actors out to pasture just because they are getting older.