The Oscars are upon us, the hugely predictable, nauseatingly self-congratulatory spectacle of awards season is finally, blessedly, nearing its end, but not before the most anticipated, and yet most frequently, head-slappingly wrong awards body hands out its trinkets.
Just to demonstrate how completely idiotic AMPAS can be here's five great actors they've never even got round to nominating, despite the fact that Julia fucking Roberts has two nominations, one of which she won.
I have restricted the list to actors who are still with us, and who have failed to win a nomination with three or more worthy roles. The list is alphabetical by surname.
Jim Carrey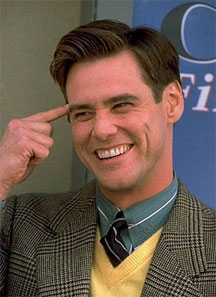 So it's not just that AMPAS has an anti comedy bias, it has an anti comedian bias. That, surely, is the only explanation for Jim Carrey failing to attract even a nomination for his remarkable dramatic work. The Truman Show was his first serious role, but it revealed a formidable talent, and if Carrey hadn't been Ace Ventura or The Mask he'd almost certainly have been nominated as Truman. It's a performance that, while reining in Carrey's comic persona, uses his comedic skills to make Truman someone we can believe that the world would want to watch for 30 years, but it's also deeply emotional, particularly at the end of the movie, as Truman waves his last goodbye.
In Milos Forman's Man on the Moon Carrey not only contributed a spot on Andy Kaufman impression, he humanised Kaufman, warts and all, in a highly acclaimed turn that was, once again, ignored by Oscar. The Truman Show is my favourite, but for most people Carrey's failure to pick up a nomination as Joel Barish in Michel Gondry's Eternal Sunshine of the Spotless Mind rankles even more. He's excellent as the man who is desperate to erase a failed relationship from his memory, but midway through the process realises how precious those memories are. It's a complex part, and Carrey makes every moment play, in a way that you doubt any other actor could have.
Worthy Roles: Truman Burbank in The Truman Show; Andy Kaufman in The Man in the Moon; Joel Barish in Eternal Sunshine of the Spotless Mind
Hope Davis
Perhaps the problem for Hope Davis is that she's operating in a crowded area, there are so many great actresses around in their mid 30's to mid 40's. She's up against the Laura Linney's, the Cate Blanchett's and the Julianne Moore's of the world, so perhaps its no great surprise that the Academy hasn't paid Davis lower key career much mind, but they should.
It's amazing that American Splendor wasn't nominated in both Best Actor (for Paul Giamatti) and Best Actress (Davis) categories, because that whole odd enterprise stood or fell on the strength of those performances, and both were absolutely brilliant. Davis brings real warmth to Joyce Brabner, as well as a combination of intelligence and quirkiness that both makes her irresistible and goes some way to explain why she falls for Giamatti's eminently resistible Harvey. It's a wonderfully real, three-dimensional piece of work. Elsewhere she did sterling work as Jack Nicholson's daughter in the overpraised About Schmidt and worked wonders with the seemingly thankless role of Nicolas Cage's ex-wife in The Weather Man, in which she delivers one of cinema's finer and more stinging put downs. Then, of course, there's future Why Haven't You Seen? entry The Nines, in which she is as brilliant as ever, three times over.
Hope Davis is one of those actresses who pretty much guarantees that, even if the movie she's in is crap, there will be one great performance to watch.
Worthy Roles: Jeannie Scmidt in About Schmidt; Joyce Brabner in American Splendor; Noreen in The Weather Man; Sarah/Susan/Sierra in The Nines
Isabelle Huppert
One of the best examples of AMPAS' anti-subtitle bias. Isabelle Huppert, now in her mid 50's has been impressing in movies with her combination of total authority as a performer and delicate feminine beauty since her early 20's. I've not seen as much of Huppert's work as I have the other actors named here, but even a small sampling reveals one of the great talents of world cinema, and an actor who Oscar should be on its knees rewarding almost every time she makes a film.
Perhaps the greatest oversight on AMPAS parties the lack of a nomination for her searing work in Michael Haneke's The Piano Teacher. It's easy to see why she was passed over; the film is cold, and punishingly dark and Huppert's character and performance are almost entirely unsympathetic, but she so completely inhabits Erika Kohut that failing to nominate her was almost perverse. Alongside Daniel Auteuil (another fantastic actor with no nominations to his name) in La Seperation she helps craft a completely convincing and terribly sad portrait of a crumbling marriage, while in La Ceremonie she manages to chillingly play an unhinged character without ever overacting.
Like so many actors who have never been nominated for an Oscar Isabelle Huppert has probably been passed over simply because she's so damn good that nobody notices that she's acting
Worthy Roles: Nelly in Loulou; Anne in La Seperation; Jeanne in La Ceremonie
Erika Kohut in The Piano Teacher; Gabrielle in Gabrielle
Jennifer Jason Leigh
I've previously held forth at length on my love for Jennifer Jason Leigh, who is, should I need to remind you, the single finest actress alive. The fact that she's never even been nominated for an Oscar still baffles me, particularly given that Renne Zellweger has one. For 30 years Leigh has been one of cinema's most reliably strong performers. She's elevated exploitation fare like Single White Female, she's impressed in small indie roles, as in Todd Solondz' Palindromes and she's been passed over for a breathlessly acclaimed lead in Georgia (for which her co-star Mare Winningham was nominated), and those aren't even the highlights.
How Leigh managed to miss out on at least one nomination for her stunning early 90's one two punch playing prostitutes Tralala and Susie in Last Exit to Brooklyn and Miami Blues respectively is one of the great mysteries. You couldn't find two more different roles; one woman seeming to take, at her invitation, all the world's misery on herself, the other trying desperately to look at the sunny side of everything. Oscar has always liked to reward actors playing real people, and yet they managed to ignore Leigh's painstakingly crafted Dorothy Parker. They also passed her by for Dolores Claiborne and most recently for Margot at the Wedding, which many thought would finally see AMPAS stop ignoring Leigh, in the end the role (though flawlessly played) was probably too down to earth, and the performance – like her others – not actorly enough for Oscar to notice.
Worthy Roles: Tralala in Last Exit to Brooklyn; Susie in Miami Blues; Dorothy Parker in Mrs Parker and the Vicious Circle; Selena StGeorge in Dolores Claiborne; Pauline in Margot at the Wedding
Steve Martin
I know what you're thinking, you're thinking Steve Martin!? Poor Sam, he's seen one too many movies and he's finally lost his mind. Clearly I'm not talking about the husk that used to be Steve Martin, the one currently polluting cinemas with The Pink Panther 2. I'm talking about the Steve Martin we all miss, the one who was hilarious every time he appeared on screen, but who also wove a subtle thread of emotion into almost all his comedy. AMPAS has always been sniffy about comedy, but when silliness is elevated to an artform the way it is by Martin in Carl Reiner's The Man With Two Brains, a film so funny the DVD should come with portable oxygen, that's as hard as any dramatic performance.
In All of Me and Roxanne Martin combines his wild and crazy guy act with a little more drama. The physical comedy with which, in All of Me he makes us believe Lily Tomlin is inhabiting the left side of his body is deft, hilarious and convincing, but he also makes the process by which his character comes to love this invader work. His wooing of Daryl Hannah in Roxanne is also very touching, but it's the scene in which he tries to think of 20 better insults than 'Big Nose' that should really have sealed both acting and writing nominations.
There are even more overlooked Steve Martin turns: Think of him in Parenthood, in a straight role for Daavid Mamet's The Spanish Prisoner or even as Ruprecht in Dirty Rotten Scoundrels and tell me this man hasn't earned a golden baldie.
Worthy Roles: Dr Hfuhruhurr in The Man With Two Brains; Roger Cobb in All of Me; CD Bales in Roxanne