Yep, it's that time again, the culmination of cinema's yearly round of mutual backslapping, The Oscars. I'm not going to post a full list of nominees, just the major categories, and any others that I have something to say about. For a full list of nominations, hit oscar.com
Best Picture
The Curious Case of Benjamin Button
Frost/Nixon
Milk
The Reader
Slumdog Millionaire
First off, thank GOD The Dark Knight isn't nominated. I was sure that AMPAS was going to buy into the hype for that ridiculously overpraised movie, just in order to connect with the public again. Good on them for not doing so. However they did nominate The Reader, which is just as unworthy of the honour. I haven't yet seen the rest of the shortlist, but I should be catching Milk and Frost/Nixon this weekend.
UPDATE: I've seen three of the nominees now, and none even deserves a mention, but if Benjamin Button wins I'll be sick.
Predicted Winner
A tough call, because I've seen just one, but I get a feeling Slumdog Millionaire takes it.
UPDATE: Slumdog, with nothing in second
Best Director
David Fincher: The Curious Case of Benjamin Button
Ron Howard: Frost/Nixon
Gus Van Sant: Milk
Stephen Daldry: The Reader
Danny Boyle: Slumdog Millionaire
What about Loveleen Tandan? Who she? I hear you cry, well, she's the credited co-director of Slumdog Millionaire, the one who has had to watch as Danny Boyle has reaped praise and awards for the film, while she hasn't even been named in any of the nominations. If you nominate a film for its direction and two people are credited then both should be nominated.
Predicted Winner
David Fincher. Reviews may be mixed, but I think it's agreed that it's about time this great filmmaker got his just reward for one of the best careers of the past 2 decades.
UPDATE: Holy crap Benjamin Button is awful, which actually makes me feel a little more secure about Fincher's win, which will be the most egregious make up Oscar since Pacino's for Scent of a Woman
Best Actor
Richard Jenkins: The Visitor
Frank Langella: Frost/Nixon
Sean Penn: Milk
Brad Pitt: The Curious Case of Benjamin Button
Mickey Rourke: The Wrestler
Rourke is excellent in The Wrestler, and the reliably brilliant Penn is likely to be strong competition for him. The story here though is AMPAS remembering a well-regarded performance from a film that came out a long time ago; Richard Jenkins in The Visitor. I haven't to my regret, seen the film yet, but Jenkins is always good value and it's nice to see him shortlisted.
Predicted Winner
Mickey Rourke, but only because Sean Penn is recently Oscared.
Best Actress
Anne Hathaway: Rachel Getting Married
Angelina Jolie: Changeling
Melissa Leo: Frozen River
Meryl Streep: Doubt
Kate Winslet: The Reader
This is good, a supporting campaign was run for Winslet in this part, and her nomination as a lead suggests that the Academy are growing tired of category fraud. Otherwise there's a mix of the expected (Meryl Streep with her customary nomination for existing), apologies (Angelina Jolie and her 'we're sorry for not noticing you doing a much better job in A Mighty Heart' nomination) and pleasant surprises (Melissa Leo picking up a nod for a great performance in a far from release indie).
Predicted Winner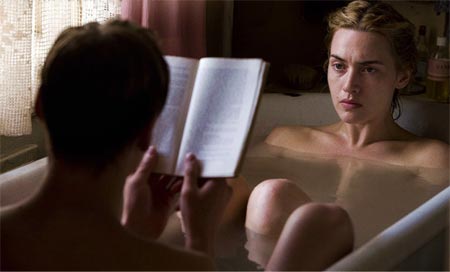 Kate Winslet. It's not the film she deserves an Oscar for, but she's 33 and has six nominations, it's time.
Best Supporting Actor
Josh Brolin: Milk
Robert Downey, Jr: Tropic Thunder
Phillip Seymour Hoffman: Doubt
Heath Ledger: The Dark Knight
Michael Shannon: Revolutionary Road
Downey? Really? Don't get me wrong, I love Downey, but this was a one joke performance in a bad movie. It's a pretty good joke, but still. Ledger has the same problem for me, it's as one-note a performance as you could hope for, but somehow it seems to have swayed even those who didn't like The Dark Knight. On the plus side it's nice to see Michael Shannon, so good in Bug, pick up a nod.
UPDATE: I'd love to see the worthy performances of Hoffman or Shannon take this, but lets face it, they won't
Predicted Winner
Ledger, but, and I'm sorry to have to say so, only because he's no longer with us.
Best Supporting Actress
Amy Adams: Doubt
Penelope Cruz: Vicky Cristina Barcelona
Viola Davis: Doubt
Taraji P Henson: The Curious Case of Benjamin Button
Marisa Tomei: The Wrestler
It's a shame the wrong supporting actress is nominated from The Wrestler. Good as Tomei is Evan Rachel Wood's seismic shifts of emotion, in just three scenes, are even more impressive. I'm looking forward to seeing Doubt, given its four acting nods, including one here for Amy Adams, who seems to be becoming something of an academy darling (and why not).
UPDATE: Amy Adams is just brilliant in Doubt, and really ought to win here, but it's not about merit.
Predicted Winner
A genuinely tough call. Probably Penelope Cruz.
UPDATE: No longer a tough calle. Penelope Cruz, for Woody Allen's massively overrated flick.
Best Foreign Language Film
The Baader Meinhof Complex
The Class
Departures
Revanche
Waltz With Bashir
The system for selecting the nominees in this category needs some serious shaking up. Why the hell does a country have to select one film to represent itself? EVERY foreign language feature released in cinemas in the eligible period should, indeed must, be considered for this award. Because when they aren't we get this list. The Baader Meinhof Complex? Please, a 150-minute lecture with occasional explosions and breasts, and that's one of the best foreign films of the year? Where the hell are the likes of XXY, Water Lilies, I've Loved You So Long? This system is broken.
Predicted Winner
Waltz With Bashir, an apology for overlooking it in the next category.
Best Animated Feature
Bolt
Kung-Fu Panda
WALL-E
I wish all of WALL-E had been as good as it first 40 minutes are, but this is another weak field in the animation ghetto and among the company it stands out.
Predicted Winner
WALL-E, with nothing in second place.
I don't really have much to say about the rest, other than PRESTO for Best Animated short!