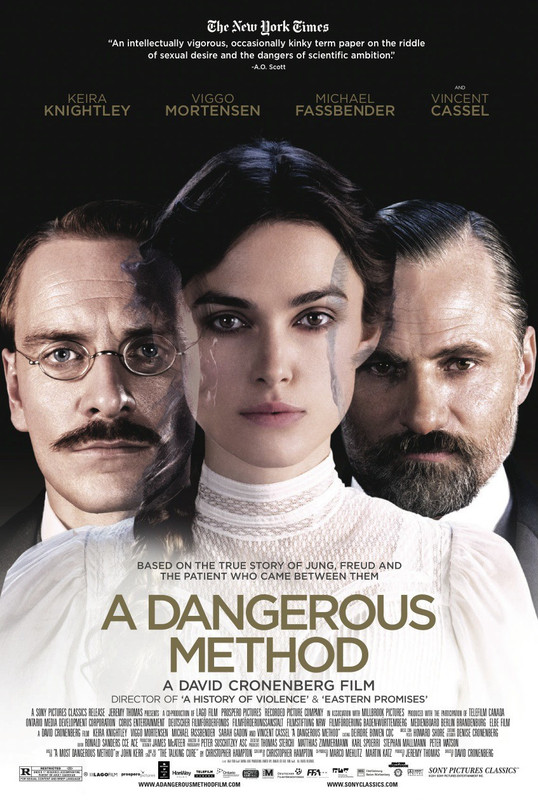 If you were to ask me who I consider the world's greatest working filmmakers, David Cronenberg would be among the first five names I would mention. For four decades, the Canadian master of body-horror has ploughed his own fascinatingly and determinedly perverse furrow through all permutations of the genre.
Lately - notably since his prescient feeling and still hugely underrated
eXistenZ
in 1999 - Cronenberg has shifted focus slightly, going from looking at the external to the internal; from the body to the mind. At least that's the popular perception. The reality is while his more recent films have dwelt on questions of the psyche and of identity they have also been as physical as ever. However, the shift becomes much more pronounced with this film, which deals with the relationship of Carl Jung (Michael Fassbender) to two very important people in his life, a patient named Sabina Spielrein (Keira Knightley), with whom he has an affair and his rival and sometime friend Sigmund Freud (Cronenberg's recent muse, Viggo Mortensen). This should be perfect material for Cronenberg, he's explored psychoanalysis before (in
The Brood
) and ideas of identity and sexuality are a keystone of practically all of his films from
Shivers
to
A History of Violence
. That's why I'm so baffled by
A Dangerous Method
, it should have been the ne plus ultra of Cronenberg films, but instead it finds him in bloodless, anonymous, uninspired form.
There are few filmmakers as readily identifiable as David Cronenberg. His style is always in motion, evolving with each new work, but the touchstones have always been in place and the texture of his work has remained largely unaltered over the years. I've seen all but two (
Fast Company
and
M Butterfly
) of Cronenberg's films, I've studied and analysed his work for years, and yet, if not for the possessory credit before the title I would struggle to tell you who made
A Dangerous Method
, it looks like any standard issue costume drama and I would guess it to be the work of one of ten mid-level journeyman filmmakers before I would pin it on Cronenberg.
The film's sole truly Cronenbergian image comes early, as Spielrein and Jung have their first meeting, at which he begins using Freud's 'talking cure' on her. Knightley's performance is incredibly physical; she contorts her body in all sorts of ways, notably jutting out her lower jaw to what must have been near dislocating lengths. In these moments Knightley provides, perhaps inadvertently, a tiny glimpse of the Cronenberg we recognise. Unfortunately, this scene is also indicative of one of the film's most totally and instantly hobbling problems; Keira Knightley's genuinely appalling performance - easily her career worst.
I should stress that I am, in general, not on board with the often outright unkind critical consensus on Knightley, indeed I've always liked her. She was not the greatest actress when she started out, but she always had presence, and a beauty that was unusual even for a film star, since then she has grown role by role into a fine and daring young actress who largely eschews the easy choices to make films she finds interesting and consistently impresses me, even when the films don't entirely work. Until now. 'Daring' is certainly true of her work here; were she any more over the top she'd actually be in orbit. 'Fine', however, would be a less accurate description, certainly Knightley is doing a lot of acting here, indeed there's more acting in her performance alone than in most regular cinema release weeks taken as a whole. That's exactly the problem, it never feels like anything but acting and, from the physicality to the accent, terrible acting at that. She's so bad here that I wonder whether this is the actress that everyone else has been seeing in her other films and whether I have previously been too kind to her.
Fassbender and Mortensen are both better, and much more restrained, than Knightley, but neither ever seems to get completely under the skin of their famous characters (though, to Mortensen's credit, he doesn't play Freud as merely the image that we have of him). I doubt that this is entirely their fault though, it seems more to do with Christopher Hampton's screenplay, and the overall shape of the film's storytelling.
Cronenberg has always combined the narrative needs of his films with probing character studies (consider how much
The Fly
owes its effectiveness to the depth of the Seth Brundle character), and you would think, with such interesting characters; intellectual heavyweights proposing revolutionary ideas, this screenplay would play to that strength in Cronenberg, but it never seems to. There is much talk of and depiction of psychoanalysis, but none of it really seems to stick, for me the characters were as elusive by the end of the film as they were at the start. Amazingly it is Jung, who has by far the most screentime, who seems thinnest. By the end of the film he's talking about how much his love of Spielrein has changed him and his life, but the script never makes that feel like a love relationship on either side. We are only given that impression through Jung's words right at the end of the film, and it rings false. Freud does at least have a few shades; we see him as a petty and professionally jealous man, but Mortensen has too few scenes to allow the film to make up much ground.
The sexuality also lacks impact, again, there is much talk - particularly thanks to Vincent Cassell's all too brief role as Dr Otto Gross, sent by Freud to be treated by Jung, in an episode that feels rather like a short film marooned in this feature - but what action there is lacks impact. The intensity of Jung and Spielrein's relationship never really comes across, because it is given little screentime, and this must surely be Cronenberg's most staid and straightforward depiction of the sexual act. Sex is spoken of here as, and is frequently in Cronenberg's films, the key to understanding people, and yet the sexual scenes hardly advance these characters at all.
The film has its roots in Christopher Hampton's stage play, and while Cronenberg and DP Peter Suschitzky shoot the film handsomely it remains very much stagebound. It's an extremely static film, not always a bad thing, but with thin characters and no real tension (not to mention Knightley's histrionics) there is little to pull you in. One scene, where Jung tells Freud about a dream as they make the crossing to America by ship, suffers from some pretty poor effects, accentuating the stagy feel to the point that it pulled me right out of the film. Hampton's dialogue is not exactly bad, but it lacks any real punch, making the film feel dry and airless.
The big problem with
A Dangerous Method
is one that I never thought I would find in even the worst of David Cronenberg's work: it's dull. I'm stunned by this, shocked by its lack of personality, amazed by its visual anonymity, dismayed by the surface level treatment of its themes. It's a crashing bore, and a crushing disappointment. Ultimately, and sadly, it's a film about analysis that doesn't bear analysis.
★★☆☆☆